Resilience: The ability to bounce back from hardship. We all have resilience. We need to recognize that we have it and give ourselves credit for our ability to bounce back from hardship in these challenging times.
I see resilience as a rubber band that stretches as we need it. It is often surprising how much a rubber band can stretch. I believe we too, are often surprised, how much we can stretch when we need to. While backpacking in New Zealand in 1984, I was caught in the worst flooding in recorded history in the Grebe Valley in the Fiordlands. I never thought I could swim a mile through a forest in 10' of water. And then scramble up an 800' fiord mountain and walk 15 miles out to the first cabin with people who could help me. But I did.
We often do not know how many resources we each possess, when we are dealing with things like a months-long quarantine, or losing a job in the worst economy ever. I say, give yourself some credit here. Who would have thought we would have to quarantine for three months? I certainly would have freaked out if they told me that back in March, but I've managed to continue living and even managed to have some fun over this time too…a semblance of normal times.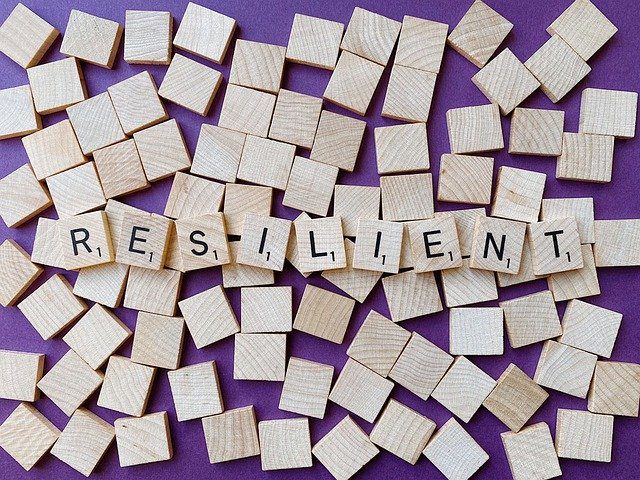 Resilience is also like a muscle. You can work it and make it stronger and you can also learn from these difficult times. Much of our resilience is based on our own personal strength, both physically and mentally, as well as the resources we can lean on in tough times.
PHYSICALLY. We need to stay active physically to whatever level your body can take. The worst thing we can do is just sit around and turn on "I Love Lucy" reruns or watch Wimbledon tennis from 2018. In order to build your resilience make sure you are taking time to walk, or exercise, or move in whatever way you can. When I work from home I set a timer for 45 minutes which reminds me to get up and move. Sometimes it is as simple as getting another coffee or brushing my teeth, and sometimes I go for a walk or go downstairs and work out.
It is important to realize that your physical health is as important as your mental health. Even watching what you are eating and making sure you are making healthy choices is important. Movement is one key and the other is what you put in your mouth. That 'rubber band' of resilience will not be stretched at all if you do not take care of your health.
MENTALLY. I think most people think of the mental piece to resilience first. It seems there is a constant undercurrent of stress in our lives now as we are dealing with COVID-19, the economy, the terrible social injustice of our society, and the upcoming American elections. Yikes! Just writing that sentence makes me nervous. Yet even with this undercurrent of stress, most people are managing their lives fine. My wife was furloughed for five weeks and that was difficult for her. But she managed to do a few things to help distract herself and we both managed to get through it.
I recommend exploring the practice of mindfulness which helps get your head out of "What's going to happen tomorrow?" "How am I going to deal with this in a month?" "What could I have done…?". All good questions but they can raise your level of stress even more if you don't focus on what is happening right now. That is what mindfulness is all about. Being present in the moment and place you are right now. You can also do more reading, more reflecting, more writing, and more time with yourself. Remember it was not that long ago most people were saying, "I'm so busy! I wish it would slow down." Looks like those people's prayers were answered 🙂
SUPPORT. We all need support in our lives. It may look different for each of us and it may be more difficult to get with social distancing, but with all the technology in our lives, we can still reach out to people to provide support, and to receive it as well. Don't be afraid to reach out if you need it and don't be afraid to check on people. This is all part of being resilient.
Nancy Schlossberg's Transition Theory comes to mind as I think about resilience. Her Four S's really seem to fit here.
Situation: How bad is the situation? It is quite different for each of us. I have been working just as hard as ever because I do a lot of online training anyway. My wife, on the other hand, struggled with how to fill her days. Same house. Same situation. Different feelings. Recognize that each person may be dealing with the same situation differently.
Self: This has to do with how much self-efficacy each person has. Are you an optimist? Or a pessimist? Are you taking care of yourself physically and mentally? What are some things you can do to be more optimistic?
Support: Schlossberg recognized in career development that people needed support in order to move forward, and we do too in these challenging times.
Strategizing: What is your ability to strategize? Are you able to think of a Plan A and a Plan B, and consider your possible options within those plans? Are you able to adapt to obstacles that come your way?
As you think about your own resilience;
Which of these four S's is your strength?
Which one might need some work?
The most important question…What did you learn?
I think the most important piece of resilience is being able to look at your own situation and ask yourself, "What did I learn from this?" The longer people have been quarantined, the more I hear that people have discovered some new things about themselves and their families. And many people are able to say they really have enjoyed pieces of it. For me, my siblings and I get together for a Zoom-chat once per week. We never would have done that without Covid-19.
When you go in for an interview, be prepared to answer the question, "What did you learn in these past few months?" You have been building resilience. You are developing other skills as well. The question for you is, are you aware you are learning? And if not, how can you increase that awareness. Think about these times as a time for personal growth.
Maybe this is the time to do something on the margins of your to-do list. Things like, "I've always wanted to do photography" or "I've always wanted to learn another language". Things that you've put off because they weren't essential to your day-to-day. This is a great way to:
(1) keep your mental wellness in good standing and build resilience during these times, but also
(2) a way to sharpen a tool that would otherwise have never been sharpened.
Then when you are on the other side, you can impress your employer (or future employer in an interview), showing them your curiosity, initiative, and self-improvement all in one example.
Who could imagine Anne Frank being hidden in a small room for 761 days! Over two years. She had to find ways to work through her days (journaling was one). She had no idea she would be hidden for over two years and then spend twenty-five months in a concentration camp. I had no idea I could swim for hours through the forest and climb a fiord and then walk fifteen miles in fourteen hours…but I did.
We all have resilience. We can all build up our resilience by taking care of ourselves one day at a time and supporting each other. Your rubber band can handle quite a bit and can indeed flex without breaking.
Listen to this Crystal Debrah-Ekolie's podcast, Change and Transition,
where Crystal interviews myself and Sabrina Woods on
"How to thrive in difficult times- RESILIENCE."
NOTE: If you are interested in learning more about my near-death experience and adventures traveling in New Zealand for six months, I am writing a book about this adventure which should be out this fall. Email me if you'd like to be notified when it comes out. [email protected]
Dr. Lucy Hone shares her three secrets of resilient people based upon her research and her personal devastating event. This is a great Ted Talk I encourage you to watch it. (16 minutes) . Watch now.
---
Jim Peacock is the Principal at Peak-Careers Consulting and writes a weekly email for career practitioners. Peak-Careers offers discussion-based online seminars for career practitioners focused on meeting continuing education needs for CCSP, GCDF and BCC certified professionals as well as workshops for career practitioners and individual career coaching.
He is the author of A Field Guide for Career Practitioners: Helping Your Clients Create Their Next Move and the recipient of the 2020 Kenneth C. Hoyt Award from National Career Development Association.
Sign up here to receive my TOP 10 TIPS WHEN WORKING WITH AN UNDECIDED PERSON. You will also receive the career practitioners weekly email on a variety of career topics, industry news, interesting events, and more.