Watch or listen to this interview with a number of different career service providers who are also book-lovers. Below the interview, you will find the books they recommended in the interview.
(1) Why do you think reading books is important for your own professional development?
(2) What is your favorite book in 2018 that helped you professionally?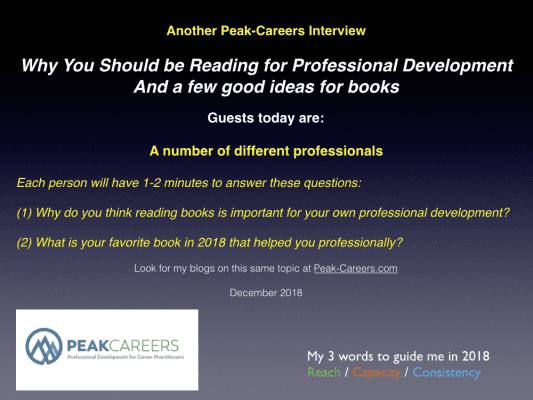 I hope you are inspired to read one of these books, I know I am. This interview is a follow up to my blog Are You Faster Than 300?
For fun, Brian reads a lot of books by Deon Meyer
Carol Pelletier, School to Career Coordinator at Camden Hills Regional High School
The End of College, Creating the Future of Learning in the University of Everywhere
, by Kevin Carey
Teach, Breathe, Learn
by Meena Srinivisasan
The Quiet American, Graham Greene
Intention, Critical Creativity in the Classroom
, by Amy Burvall and Dan Ryder
Her STEM Career: Adventures of 51 Remarkable Women
by Diane Propsner
Girl, Wash Your Face
by Rachel Hollis
Becoming
by Michelle Obama
Edward Lawrence,
Training Coordinator for MassHire Metro Southwest, which comprises MassHire Framingham and MassHire Norwood, two Massachusetts-based American Job Centers. By night, I offer coaching and career services through my business Getstarted LLC (www.getstart-ed.com).
Grant
by Ron Chernow. A study Presidential leadership styles.
Recommended by my boss; has enabled us to transform the message for job-seekers.
Excellent summation of how Vision and Alignment and Execution are used by leaders.
I met the author Elizabeth White. She told me, "Ed, the cavalry isn't coming through that door!"
Her experience echoes the philosophy of Hoffman. We are responsible for our careers.
Barry L. Davis, MS, CTC, CMCS, Career Coach at Gift of Self Career Services and Adjunct Professor for Concordia and Huntington Universities
Steal Like an Artist – 10 Things Nobody Told You About Being Creative by Austin Kleon
Barbara Janssens,
Living Nonviolent Communication: Practical Tools to Connect and Communicate Skillfully in Every Situation.
By Marshall Rosenberg
Career Kred. 4 Simples Steps to Build Your Digital Brand & Boost Credibility in Your Career.
By Ryan Rhoten
The ONE Thing: The Surprisingly Simple Truth Behind Extraordinary Results
. By Gary Keller and Jay Papasan
Alease Copelin, CT/Academic Counselor, Center High School Career Center
Note: Alease like a few others here, do not have a "favorite" book per se, but whatever they are currently reading…

The Go-Giver: A Little Story About a Powerful Business Idea

Author: Bob Burg and John David Mann
Jim Peacock is the Principal at Peak-Careers Consulting and writes a monthly newsletter for career practitioners. Peak-Careers offers discussion-based online seminars for career practitioners focused on meeting continuing education needs for CCSP, GCDF and BCC certified professionals as well as workshops for career practitioners and individual career coaching.
Sign up here to receive my TOP 10 TIPS WHEN WORKING WITH AN UNDECIDED PERSON. You can also receive the career practitioners newsletter which includes a variety of career topics, industry news, interesting events, and more.