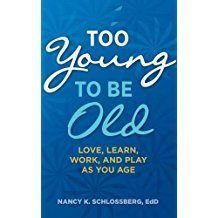 Too Young To Be Old: Love, Learn, Work, and Play as You Age. By Nancy Schlossberg, a friend to the career counseling world who is now in her 80's and still writing, thinking, and sharing her thoughts on transitions. Much of this book is her personal journey in her 3rd Age and 100's of interviews with others going through this new developmental stage of life.
She addresses the biases of age and gives suggestions on how to deal with our own perceptions of age bias as well as what we might do to address it when we hear it. Understanding all the various transitions people go through is a big part of this book, from the transition of leaving F.T. work, to moving, changing relationships, and more.
The key point of any transition is how your roles, relationships, routines, and assumptions about yourself change. Using her 4 S's of breaking down the transition to identify weaknesses and strengths is covered throughout her book.
[Read more…]

about Too Young To Be Old. Nancy Schlossberg