Learn from these two experts on how to brand yourself on LinkedIn. What makes you unique? What is your value? What is your story? LinkedIn is much more than just a social media platform. Learn how to create a strong Headline and About section from Shelly (a.k.a. LinkedIn Superwoman) and Hannah (a.k.a. Career Sherpa).
MY GUESTS TODAY ARE: Shelly Elsliger, President of Linked-Express and Hannah Morgan, Career Sherpa
Watch and listen to these two LinkedIn experts for their advice on creating a quality Headline and "About" section (formerly called Summary) and their top 2 tips on how to 'engage' with others.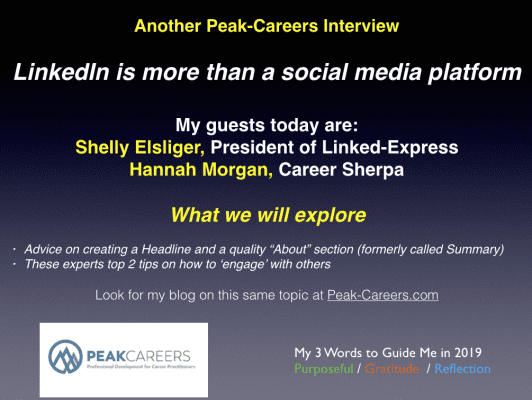 BIO'S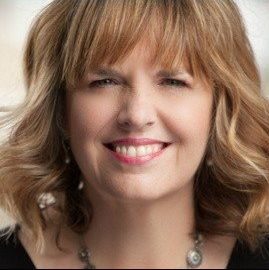 SHELLY ELSLIGER is an engaging LinkedIn Trainer and President of Linked-Express. She is also referred to as LinkedInSuperwoman. Shelly coaches and empowers executives, diverse leaders, aspiring women leaders, business students and job seekers, as well as corporate teams; inspiring them to maximize their professional branding potential, social influence, and leadership ability on LinkedIn. Shelly is a Forbes writer, A Woman of Inspiration Nominee, and on the list of Globally recognized LinkedIn trainers. You can find her at linkedexpress.ca and connect with her at https://www.linkedin.com/in/selsliger/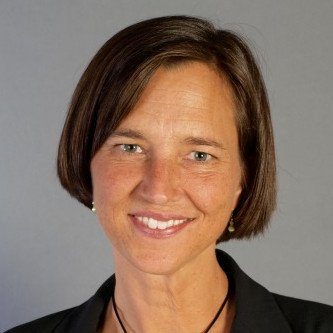 HANNAH MORGAN provides actionable job search and career guidance. She loves keeping track of the latest job search trends and social networking strategies. Her work has been featured in numerous national media outlets such at Money Magazine, Huffington Post and USA Today and is listed as a top resource by some of the top names in the careers industry. Hannah is the author of "The Infographic Resume" and co-author of "Social Media for Business Success." You can find her on Career Sherpa.net To keep up with job search trends, follow her on Twitter @careersherpa, Facebook and LinkedIn.
Check out more Peak-Careers interviews here.
Want to learn more about LinkedIn? Check out the 5 week, discussion-based online seminar with Bob McIntosh here.
JIM PEACOCK is the Principal at Peak-Careers Consulting and writes a monthly newsletter for career practitioners. Peak-Careers offers discussion-based online seminars for career practitioners focused on meeting continuing education needs for CCSP, GCDF and BCC certified professionals as well as workshops for career practitioners and individual career coaching. He is the author of A Field Guide for Career Practitioners: Helping Your Clients Create Their Next Move
Sign up to receive my TOP 10 TIPS WHEN WORKING WITH AN UNDECIDED PERSON. You can also receive the career practitioners newsletter which includes a variety of career topics, industry news, interesting events, and more. https://peak-careers.com