What is happening with LinkedIn?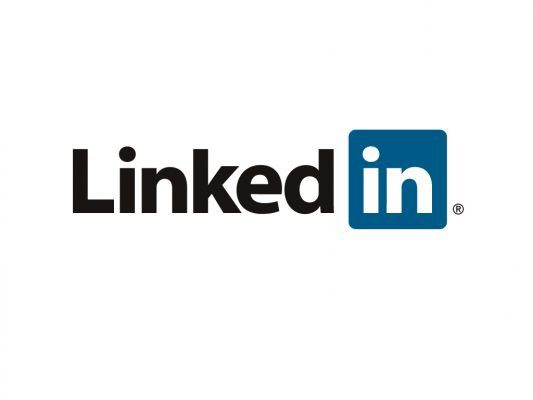 I have been on LinkedIn since December 20, 2007 — making this my 9th year. The first few years I sat back and watched a lot because I simply did not know what was happening…I needed to learn the culture, like you do when you go to a new country.
A few facts: LinkedIn was launched in 2003 and by the time I joined in 2007,LI had 17 million profiles. As of August 4, 2016 there were 450 million users. Though there are millions of people who have created profiles on LinkedIn, there are those who don't know what to do, haven't logged in in months, or have lost their passwords. According to Wikipedia, there are just over 100 million active users. I can believe that.
LinkedIn has changed over the years and not all for the better. I am now seeing more spammers out there requesting to connect with me to gain access to my 945 connections. I am also seeing many more LI messages for me to buy buy buy something they want to sell, sell, sell. I've also seen and heard about many more users with fake profiles who are also trying to access people's contacts to do the same thing.
The groups used to be very professionally-oriented and now I am seeing more irrelevant discussions and posts that serve no purpose in "adding value" to people's professional lives. For years the groups maintained a professional focus and the community of LI was very much a "helping professional network". Now there seem to be more non-professional groups and a few more "cat pictures" making it feel more like Facebook. Since LI removed the ability to search in groups there is less networking going on.
This is supported by my recent survey (September 2016) to which I had over 100 career practitioners respond "where they hang out online?" Here are two responses to the question: "Please identify all LinkedIn groups you participate in and list them in the order of your preference."
Several, but for the most part, I no longer actively participate in them as have seen their usefulness and effectiveness decrease. I do belong to a LinkedIn Experts group, but we meet on Google Plus as we find it more conducive to the conversation, sharing info, etc.!
I belong to many LI Groups; I don't find them of much value.
So where are people hanging out? (see chart below)
It comes as no surprise that LinkedIn is the top place because I posted this on LinkedIn and it is indeed the professional network. I was actually surprised by the number of people on Google + and Twitter. Personally, I have been ignoring Google+ and realize now that I should not. Twitter is something I have focused on more recently after taking Rich Grant's "Twitter for Career Practitioners" online seminar. I am currently following 357 people and have 335 followers.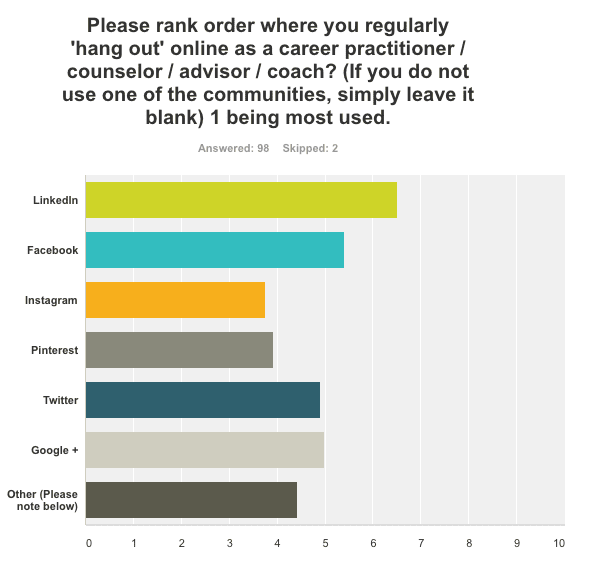 The "Other" category was an interesting collection including: Google blogs, Yahoo group, newsletters, Yammer an internal networking group, Indeed.com, YouTube, HigherEd.com, LIstservs, regional association groups, Medium, LERN, Muse, CareeRealism, Idealist, and Quora.
What LinkedIn groups are you active in?
This was somewhat interesting in that there were 95 different groups represented and 70 groups that only one person noted. Showing the diversity of groups out there and the niche's people have in the career field. The top 7 groups are all groups I hang out in as well. I am not sure what to conclude from this other than the diversity of interests and groups on LinkedIn. Even though you can now join 100 groups, I am cutting back on the numbers of groups I join and trying to be more active in the ones I am in.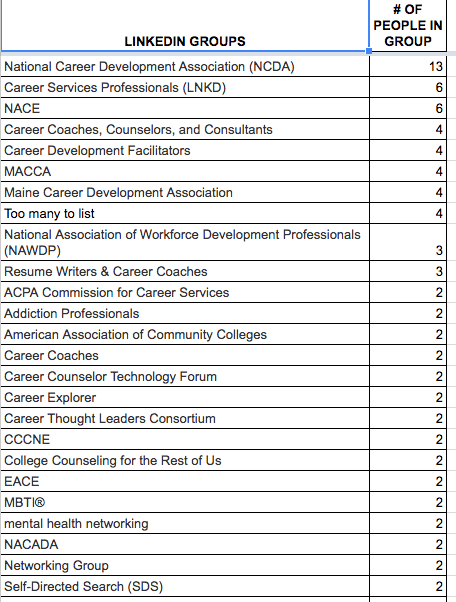 Who completed this survey? (see below)
This is obviously a reflection of (a) who is signed up for my monthly newsletter and (b) who follows me on LinkedIn and Twitter. I had 65% over 50 years old and only 10% under 40 years old.
25% Private Practice 25% Higher Education 11% Adult Education 11% Government Agencies / Career Centers
Where are the younger professionals hanging out? I was concerned about this missing gap so I copied the survey and created a "millennial only" survey and sent it out in advance of my September newsletter. See results below.
***I opened a "35 or younger" survey for 2 weeks to see if there was anything very different for this age group. [Survey closed 9/20/16]
NOTE: Thank you to all the millennial's who responded to this survey.
RESULTS: There was very little difference in the general and the millennial survey other than the amount of time spent online each day. Over 33% of the millennials spent between 30-60 minutes/day (compared to about 23%) and about 16% of the millennials spent 1-2 hours/day online compared to less than 5% of all others.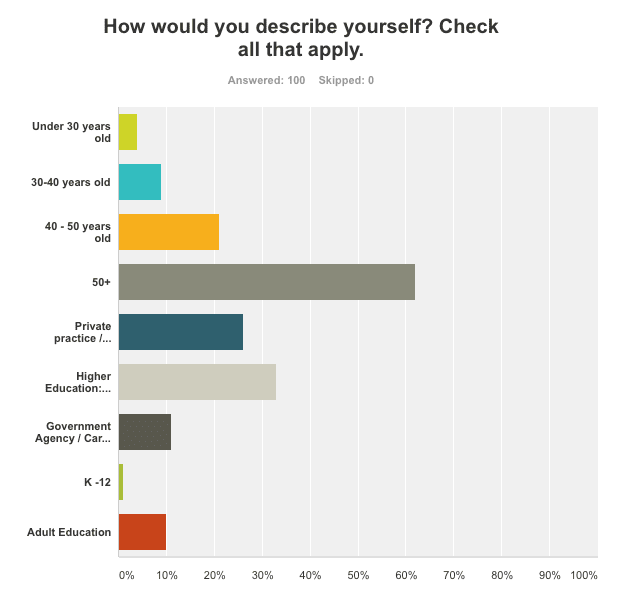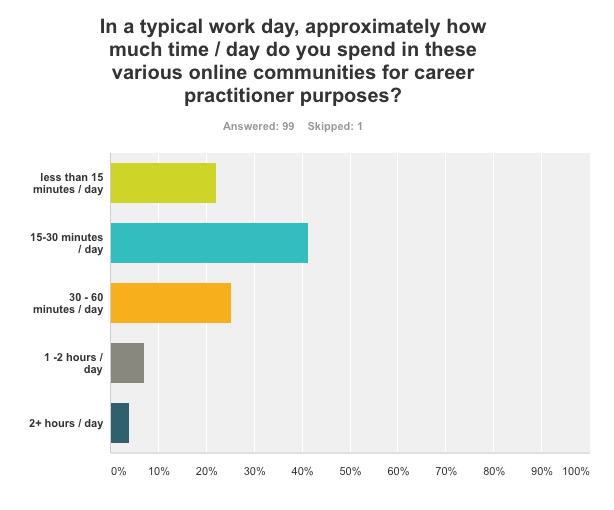 What is the future for me and LinkedIn?
As you can see in the chart above, people are online looking for information now more than ever. 72% of the respondents are spending between 15-60 minutes per work day online "for career practitioner purposes". Online research is not going away.
I think LI will still be around for a long time but it clearly has changed. Here is why I will continue to use LI:
Networking: LinkedIn is still a great place to network with other like-minded professionals
Career Exploration: I send clients there to do career exploration. Go to their alumni page, find other people with the same major, and check out their career paths
Publisher: I try to publish an article once / month on LI Publisher
Online professional presence: I need to have an online presence that shows who I am and as much information about me in a professional view.
What is the future for professional online communities?
There will always be new and upcoming online communities. According to Wikipedia, there are more than 210 communities (not including dating sites) with 18 social media communities online with over 100 million active people. LI just barely makes it to 100 million active and Google+ has 212 million active.
Personally, I plan to continue using LinkedIn, Twitter, and Facebook and devoting up to an hour each day for social media. I will plan to make a bigger commitment to Google + and also I want to check out a couple of the smaller social media sites. This summer Peak-Careers has devoted more time to our Pinterest page with 10 boards including LinkedIn, interviewing, networking, and my newsletters and we will continue to explore this.
If you have recommendations for places to go online for me to learn and share
with fellow career practitioners, please share them with me.
————————————————
Jim Peacock is the Principal at Peak-Careers Consulting and writes a monthly newsletter for career practitioners. Peak-Careers offers discussion-based online seminars for career practitioners focused on meeting continuing education needs for CCSP, GCDF and BCC certified professionals as well as workshops for career practitioners and individual career coaching.
Sign up here to receive my TOP 10 TIPS WHEN WORKING WITH AN UNDECIDED PERSON. You can also receive the career practitioners newsletter which includes a variety of career topics, industry news, interesting events, and more.