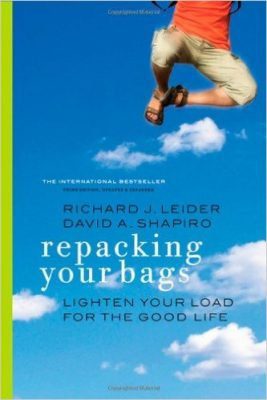 I had seen Richard Leider speak at NCDA in 2014 and was inspired by his message of passion and "unpacking your bags" to find what really matters. In Repacking Your Bags he walks you through the process. There are so many great quotes I found myself highlighting in my e-book often.
"The ideal job isn't a standard of living it's a state of mind and a state of being. In the ideal job, you're applying the talents you enjoy most to an interest you're passionate about, in an environment that fits who you are and what you value".
The authors speak to the fact that most of us just keep collecting things physically and emotionally and we seldom get rid of them as they lose their usefulness. They offer a number of activities you can do and offer many suggestions on how to begin this process of repacking your bags. Yes, bags. There are your place, relationship, and work bags. And then they walk us through finding 'purpose' in our lives.
This book is applicable to job seekers and also to Boomers as they contemplate where they want to spend their time and energy after full-time employment is done and they search for a purpose in their next 20 years.
"Repacking encourages you to reflect on and commit to your vision of the good life through an emphasis on 'courageous conversation' with yourself and others."
"The formula for the good life is: Living in the place you belong, with the people you love, doing the right work, on purpose."
This is a very thought-provoking book I highly recommend for career practitioners and anyone who is facing a transition in their lives.
If you are interested in discussing this topic further, you might be interested in my 5 week, discussion-based online seminar for career practitioners called Working with Boomers to Reinvent Retirement.
If you are interested in understanding transitions better, check out this discussion-based online seminar, Understanding Transitions.
Jim Peacock is the Principal at Peak-Careers Consulting and writes a monthly newsletter for career practitioners. Peak-Careers offers discussion-based online seminars for career practitioners focused on meeting continuing education needs for GCDF and BCC certified professionals as well as workshops for career practitioners and individual career coaching.
Sign up for our monthly newsletter at www.Peak-Careers.com