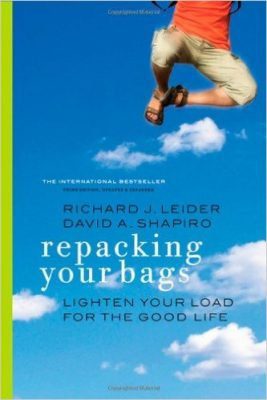 I had seen Richard Leider speak at NCDA in 2014 and was inspired by his message of passion and "unpacking your bags" to find what really matters. In Repacking Your Bags he walks you through the process. There are so many great quotes I found myself highlighting in my e-book often.
"The ideal job isn't a standard of living it's a state of mind and a state of being. In the ideal job, you're applying the talents you enjoy most to an interest you're passionate about, in an environment that fits who you are and what you value".
The authors speak to the fact that most of us just keep collecting things physically and emotionally and we seldom get rid of them as they lose their usefulness. They offer a number of activities you can do and offer many suggestions on how to begin this process of repacking your bags. Yes, bags. There are your place, relationship, and work bags. And then they walk us through finding 'purpose' in our lives.
[Read more…]

about Repacking Your Bags: Lighten Your Load For The Good Life. Richard Leider and David Shapiro