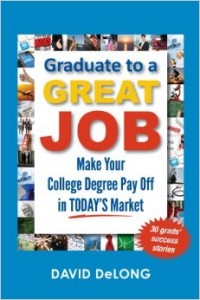 Graduate to a Great Job. Make your College Degree Pay Off in TODAY's Market. By David DeLong
One of my jobs is working part time at Colby College in the Career Center and the Director loaned me this book because David is a Colby alumni and she had recently met him. Curious, I began reading it when I was covering "drop-in" hours and was hooked immediately. I finished it over the weekend, great stuff!
This is a book written to college students and their parents and is filled with practical advice on a range of job seeking topics from networking (which is obviously the key piece), the importance of internships, tips on writing a strong resume, interviewing, attitude, and the parents role (one chapter devoted to what parents should and should not do). He also recommends getting into the College Career Center and getting as much as you can out of it while the student is there.
[Read more…]

about Graduate to a Great Job. Make your College Degree Pay Off in TODAY's Market. By David DeLong