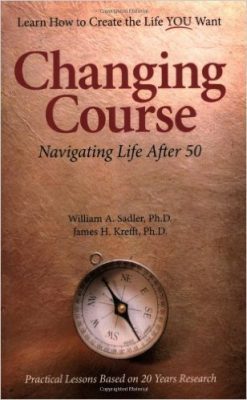 After listening to a webinar recently (July 2016) on Dorian Mintzer's monthly webcast on Adult Development IN Aging with Dr. William Sadler, I found that I was very interested in hearing more from him. So I started reading his book, Changing Course: Navigating Life After 50 that he co-authored with James Krefft. I found this to be a very practical and informative book on how people in their "3rd Age" think and act.
I agree with so much of this book and appreciate the research behind my own thinking being supported with facts and stories. I particularly like how he has laid out 6 Principles of 3rd Age growth which agrees with much of my work and the Life Planning Network Associations.
Reflection and being mindful – take the time to really sort out who you are and what is important to you
Develop realistic optimism
Create a positive 3rd Age identity – in order to create a new identity you must 'end' your 2nd age identity
Balance greater freedom with deeper, more intimate relationships
Redefine what work is and balance with play
Care for others, the earth, and yourself
Clearly "retirement" is NOT the correct word for most of us. The authors demonstrate that the 3rd age can be a time of creativity, learning, and growth. [TWEET THIS] This is a very optimistic book and based upon a number of years of interviews with people moving from their 2nd Age (the time in our lives when we are working and raising families) to their 3rd Age (the time after 2nd Age and before the 4th Age when our lives really do slow down typically).
I found so much overlap with two of my favorite career theories, Happenstance and Transitions. The authors encourage people to embrace serendipity and to discover by accident opportunities that feed the soul, the basis of Happenstance Learning Theory. Transitions theory was scattered throughout this book as people face this new developmental stage, leaving the 2nd Age and transitioning to the 3rd Age by ending one identity and creating a new one.
I found myself making notes in my notebook and underlying lots of paragraphs so that I can go back and reflect on more over time. This is a book I will keep and refer back to as I work with my Boomer clients and as I reflect on my own 3rd Age.
If you are interested in discussing this topic further, you might be interested in my 5 week, discussion-based online seminar for career practitioners called Working with Boomers to Reinvent Retirement.
If you are interested in understanding transitions better, check out this discussion-based online seminar, Understanding Transitions.
Jim Peacock is the Principal at Peak-Careers Consulting and writes a monthly newsletter for career practitioners. Peak-Careers offers discussion-based online seminars for career practitioners focused on meeting continuing education needs for GCDF and BCC certified professionals as well as workshops for career practitioners and individual career coaching.
Sign up for our monthly newsletter at www.Peak-Careers.com