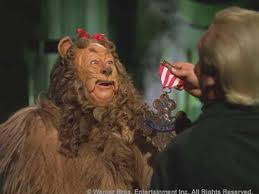 We, as career practitioners, all have the ability to be "…the great and all powerful wizard" every day. We must never underestimate the power of our words. Here are 10 quotes from the classic movie The Wizard of Oz and how they translate for career practitioners.
1. Wizard of Oz to Cowardly Lion: You, my friend, are a victim of disorganized thinking. You are under the unfortunate impression that just because you run away you have no courage; you're confusing courage with wisdom.
When we meet with students or clients they often bring to us a preconceived picture of their career path and one of the greatest conversations we can have is helping them reframe their thinking from seeing barriers to visualizing opportunities.
2. Dorothy: How can you talk if you haven't got a brain?
Scarecrow: I don't know….but some people without brains do an awful lot of talking, don't they?
All too often, parents and friends of our clients, give advice that is 'less than helpful'. I tell students that many people will give advice, often out of love for them, but it may not be based upon facts or current information. You need to listen, but ultimately make your own decision.
3. Wizard of Oz to Scarecrow: They have one thing you haven't got: a diploma. Therefore, by virtue of the authority vested in me by the Universitartus Committiartum E Pluribus Unum, I hereby confer upon you the honorary degree of ThD.
Scarecrow: ThD?
Wizard of Oz: That's… Doctor of Thinkology.
When we introduce various resources to our clients, we are giving them the ability to think on their own. They always could, but because they did not know WHERE to go for information, they were stuck. Krumboltz speaks to learning theory and ensuring that the clients are given resources and information to ultimately make their own decision.
4. The Wizard of Oz: A heart is not judged by how much you love; but by how much you are loved by others.
The benefits of "doing good for others" can never be overlooked. If someone is unemployed and looking for work, remind them to be good to everyone they meet when networking or interviewing and to consider volunteering in their community as a way to keep their spirits up and confidence strong.
5. Wizard of Oz to Dorothy: Frightened? Child, you're talking to a man who's laughed in the face of death, sneered at doom, and chuckled at catastrophe… I was petrified.
Have you seen the "deer in the headlights" look before? You betcha. Is it scary to be unemployed, looking for work, not knowing when something is going to break for you? Yep. But sometimes we just need to get our clients to "act" like they are laughing in the face of death, and chuckling at catastrophe. If they can pretend they have positive thoughts, it will breed more positive thinking.
6. Look at the circles under my eyes. I haven't slept in weeks!
While dealing with the career advising side of people's lives, we have to remember that changes or transitions affect many other areas of people's lives besides the "finding work" piece. People's roles change to spouses and children, their routines are thrown into disarray, and yes, maybe they are not sleeping like they should. We need to encourage people to take care of themselves through exercise or activities, avoiding unhealthy use of alcohol or drugs, and to get plenty of sleep.
7. Dorothy: It really was no miracle. What happened was just this…
Happenstance in our lives often looks like miracles. Encouraging our clients to look at chance events as opportunities and to seize every opportunity that comes their way and to realize that ACTION is required in order to create luck or what can appear to be a miracle. But it all starts with one step down the yellow brick road.
8. Cowardly Lion: You're right, I am a coward! I haven't any courage at all. I even scare myself.
Sometimes we need to call people on some of their perceptions of themselves or the situation. The most difficult being the ultimate pessimist. Most of us have faced the student or client that repeatedly says, "I've done that and it didn't work", or "I could never do that..." We as career practitioners need to address these observations (like Dorothy did to Lion) and put the issue on the table. Once the issue is addressed, the client can begin to deal with it. And hopefully, they can move forward in the career decision process.
9. Dorothy: Toto, I've a feeling we're not in Kansas anymore.
Many people come to us and truly have no idea on HOW to make a career decision. They are in a foreign country and don't know the language. One of our greatest gifts is to introduce them to this foreign language of career resources and tools. Because many of these people really do need to step outside the comfort zone and possibly get a little uncomfortable in order to proceed.
10.The Cowardly Lion having just received a Courage Medal from the Wizard of Oz.
Shucks, folks, I'm speechless. Ha Ha!
I am not sure I want the students I am working with to be speechless, but it is a wonderful feeling when I work with a student and at the end of our time together, they are truly heartfelt thankful for what I've done to help them.
The great and powerful Oz has spoken.
If you liked this you might want to read my article on Academic Advisors and the Wizard of Oz in the NACADA Academic Advising Today http://bit.ly/12nmpIA
Jim Peacock is the Principal at Peak-Careers Consulting and writes a monthly newsletter for career practitioners. Peak-Careers offers discussion-based online seminars for career practitioners focused on meeting continuing education needs for CCSP, GCDF and BCC certified professionals as well as workshops for career practitioners and individual career coaching.
Sign up here to receive my TOP 10 TIPS WHEN WORKING WITH AN UNDECIDED PERSON. You can also receive the career practitioners newsletter which includes a variety of career topics, industry news, interesting events, and more.