What are some ways you can train yourself to do deeper thinking? Why is this so important? I believe we are all a bit like a golden retriever in a room with four tennis balls bouncing around. We chase emails. We click on five different social media platforms. We send and receive text messages. We are too busy most days to simply slow down and think.
I read Cal Newport's book, Deep Work to help me understand this topic better. He talks about the many benefits of Deep Work that requires longer periods of uninterrupted time that is much more productive. Cal's definition of Deep Work is professional activities performed in a state of distraction-free concentration that push your cognitive capabilities to their limit. These efforts create new value, improves your skill, and are hard to replicate.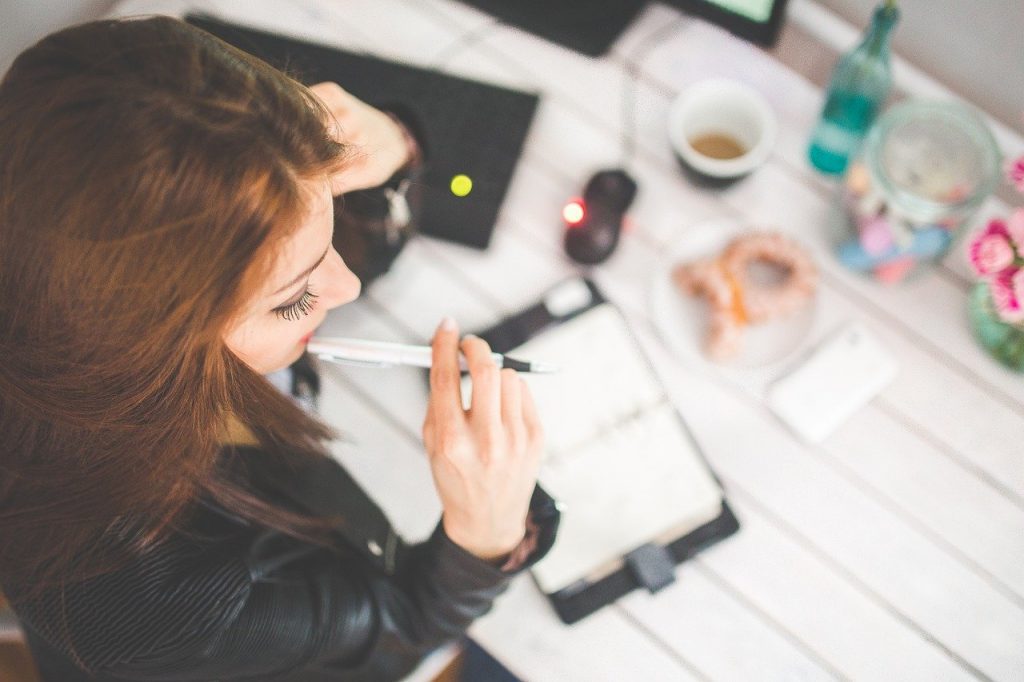 One way that I try to do deeper thinking is to take monthly day-long retreats where I turn off my phone, leave the computer behind, stop all social media, and I journal, think, meditate, walk, read, and simply slow down. (Read more about my retreats).
I also try to start each day with walking meditation and take a 20-25 minute meditation break mid-day most days. You can learn more about this topic here.
I want to talk about how spending some time writing
can improve your deeper thinking.
I believe there is something powerful in taking a pen in hand and writing on paper…the kinesthetic connection between your hand and your brain is powerful. I can't give you the scientific information to support this, I know it is true. It is why I love using card sorts with clients and call that particular workshop, The Magic of Card Sorts. Something deeper happens when you use your hands with your brain.
Writing forces you to take those thoughts out of your head to organize them on paper which helps with deeper thinking.
That simple process requires you to consider an order of importance, and then to describe your thoughts clearly. When you "leave it in your head" it seldom gets worked out enough. By writing it down, it helps you process the information and gets you to identify key themes or key points.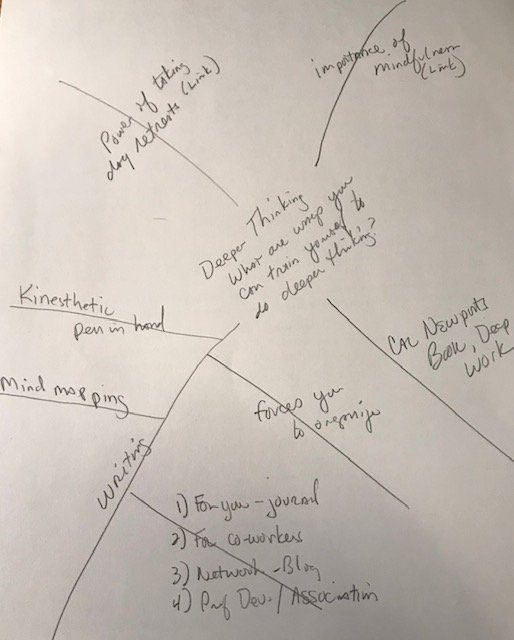 I like to mind-map my blogs. Here is a picture of my mind-map for this blog. My original was much sloppier writing so I re-wrote it so you could read my handwriting 🙂

It helps me organize my thinking and I can always add to it as I am going.
If you would like to practice deeper thinking for yourself, start journaling. I strongly encourage you to not type in a computer and to get yourself a journal book to write in. I try to write each morning and often I will flip back through my journal book to see if there are themes emerging and also so I can develop my thinking and add to some of my earlier thoughts.
You may want to nudge yourself to write for your colleagues or people you work with as a way to clarify some thinking. Again, most of us would do that on the computer. I challenge you to consider starting with pen and paper.
As you work on your deeper thinking and begin to write, I encourage you to share your writing with your network. You can do this on a blog or in a LinkedIn post or even write a LinkedIn article. When you push out your thoughts publicly, people can add to your thinking or be challenged to think themselves in a different way.
Finally, many of you are doing great things in your work. Why not consider writing an article for one of your professional associations?
I know that the Maine Career Development Association produces a monthly newsletter and they would consider articles from their members. Your chamber of commerce likes to share information, your place of work may have a newsletter, and national associations are always looking for good content.
For example, National Career Development Association has a monthly web-magazine called Career Convergence. They encourage members to write and are only looking for about 950 words. They provide editors to review your article before submitting and give great advice. I've written a few articles there. Here is one I wrote about "Stay Interviews" that I wrote a few years ago.
Here is one I wrote for the National Academic Advising Association (NACADA) in their Academic Advising Today, quarterly e-zine on how Academic Advisors are the like the Wizard of Oz 🙂
My point that I want you to take away is that writing can help you do deeper thinking. And we all need to find ways to do deeper thinking to slow down our fast-paced lives and to really T H I N K about what is happening and how we can improve our lives.
What are your thoughts on deeper thinking?
Jim Peacock is the Principal at Peak-Careers Consulting and writes a weekly email for career practitioners. Peak-Careers offers discussion-based online seminars for career practitioners focused on meeting continuing education needs for CCSP, GCDF and BCC certified professionals as well as workshops for career practitioners and individual career coaching.
He is the author of A Field Guide for Career Practitioners: Helping Your Clients Create Their Next Move and the recipient of the 2020 Kenneth C. Hoyt Award from the National Career Development Association.
Sign up here to receive my TOP 10 TIPS WHEN WORKING WITH AN UNDECIDED PERSON. You will also receive the career practitioner's weekly email on a variety of career topics, industry news, interesting events, and more.