Deep Work: Rules for Focused Success in a Distracted World. By Cal Newport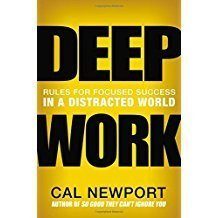 I needed this book to confirm a bunch of thoughts I have been struggling with in my busy life. Cal does a persuasive job describing the benefits for removing the clutter of our daily lives that eat of time he calls "shallow work" like emails, social media, and more. This is what I call "feeling like a golden retriever with 4 tennis balls in the room."
Cal talks about the many benefits of Deep Work that requires longer periods of uninterrupted time that is much more productive. Carl Jung built a retreat for himself that he would go to and think and write and think some more. He still was active in his social life but not the days he was at his retreat.
Cal's definition of Deep Work: Professional activities performed in a state of distraction-free concentration that push your cognitive capabilities to their limit. These efforts create new value, improve your skill, and are hard to replicate.
He gives many great examples of people who have mastered the ability to focus and to think deeper thoughts and produce great work from Woody Allen who wrote and directed 44 films that received 23 Academy Award nominations in 44 years! As well as some guy names Bill Gates who would take "Think Weeks" twice a year.
In 2012 a McKinsey study found that the average worker now spends more that 60 % of the workweek engaged in e-communication an Internet searching, with close to 30% of their time reading and answering email alone!
The Deep Work hypothesis: The ability to perform deep work is becoming increasingly rare at exactly the same time it si becoming increasingly valuable in our economy. As a consequence, the few who cultivate this skill, and then make it the core of their working life, will thrive.
Cal postulates and has research to support it, that by practicing Deep Work and thinking, you can grow this ability, much like a muscle. The more you can get into Deep Work daily, the more benefits you will produce. AND Deep Work will allow you to be focused enough that you can stop working evenings and weekends. Folks, it is a compelling book to read.