My guests today are Robin McPherson, a mental health professional and career coach; and Telma Sullivan who is an independent career coach helping individuals to launch, advance, or transition their careers.
This is a follow up to our interview in January when we choose our words. You may want to watch that interview first if you are not familiar with why and how we choose our words. Here it is.
(1) What are  your words and what do they mean to you?
(2) How have they impacted your daily life so far in 2023?
(3) What might you do in the future to keep them more in the forefront?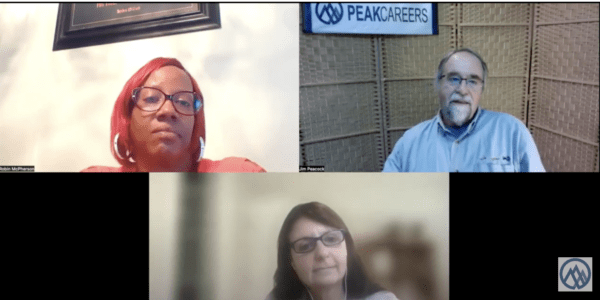 Watch / Listen to this Interview Now
BIO's
Robin McPherson. A mental health professional and an education and career coach. I have over 20 years of experience in the human service and education field. I help people "figure out" what they want. It starts with Envisioning the life they want, then work with the mindset of Believing that one can Achieve their goals. I believe that the key to success is self-belief! I am committed to the process of helping others reach self-actualization. https://www.linkedin.com/in/robin-mcpherson/
Telma Sullivan is an independent career coach helping individuals to launch, advance, or transition their career. She coaches young adults exploring careers, women reentering the workforce, people in mid-career, and career changers. Her coaching approach is client-focused and outcome-oriented, and her services include: job search strategy, resume/CV/cover letter writing, LinkedIn profile, networking, interview/salary negotiation preparation, and career change exploration. Telma is also a yoga instructor who enjoys creative writing and spending time in nature. Web: https://www.telmasullivan.com/
---
Jim Peacock is the principal at Peak-Careers Consulting and writes a weekly email for career practitioners. Peak-Careers offers discussion-based online seminars for career practitioners focused on meeting continuing education needs for CCSP, GCDF, and BCC certified professionals as well as workshops for career practitioners and individual career coaching.
He is the author of A Field Guide for Career Practitioners: Helping Your Clients Create Their Next Move and The Adventure of Finding Me in New Zealand. He is also the recipient of the 2020 Kenneth C. Hoyt Award from the National Career Development Association and the Mid-Atlantic Career Counseling Association's Professional Contribution's Award in 2020.
Sign up to receive my TOP 10 TIPS WHEN WORKING WITH AN UNDECIDED PERSON. You will also receive the career practitioner's weekly email on a variety of career topics, industry news, interesting events, and more. (Sign up)