A couple of weeks ago, I took my "tech-free retreat" which I try to fit in monthly. My focus was on choosing my three guiding words for the upcoming year. December's retreat was scheduled on a day that turned out to be our first real snowstorm of the year. Hence, it became a half-day retreat, not my typical full day one. I've lost access to an office I was using for my retreats, so I spent the morning at Selah Tea Cafe downtown Waterville where I worked on my three words for 2022.
I had planned to move to my other favorite coffee shop, Jorgenson's Cafe, at noon, but they closed early. My next back up plan was to hang out in the Waterville Public Library on the 3rd floor which has a wonderful room with lots of windows looking over downtown Waterville…but alas, they closed due to the storm as well.
All was not lost as I still did lots of thinking and writing, and came up with my three guiding words for the year.
First off, let me share my words from past years. Each word still resonates with me at some level. They were important to me then and still are now as a clue to who I am and who I want to be.
2016 – Health ★ Mindfulness ★ Focus
2017 – Intentional ★ Authentic ★ Wellness
2018 – Reach ★ Capacity ★ Consistency
2019 – Reflection ★ Purposeful ★ Gratitude
2020 – Philanthropy ★ Rebalance ★ Strategic
2021 – Be ★ Kindness ★ Understanding
Here are my three guiding words for 2022 and a little of the reasoning behind each one.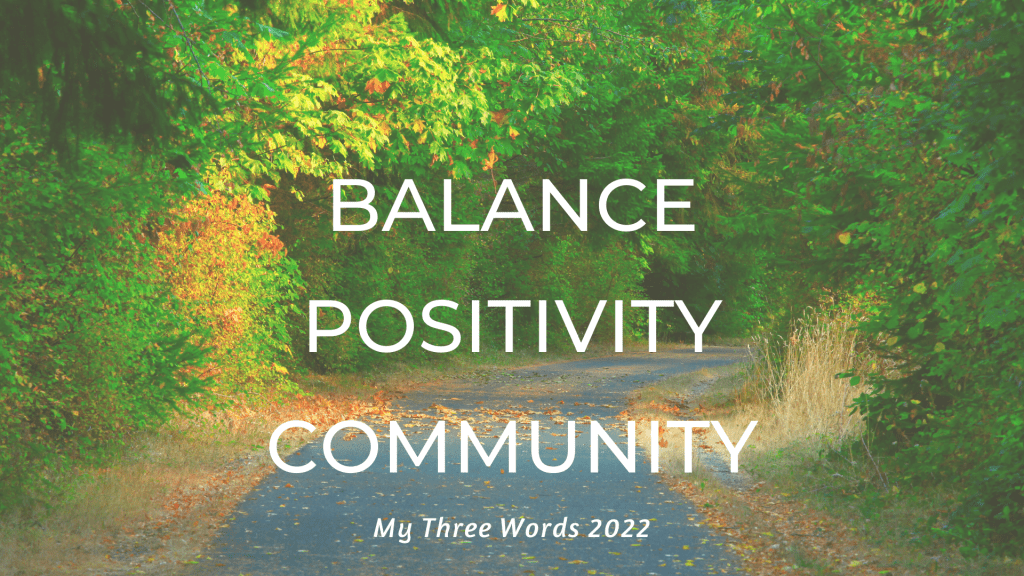 Balance
In 2020 I used "rebalance" which is similar, but as I looked ahead to 2022 and reflected back on 2021, I kept coming back to the guiding word of "balance." A few years ago I was trying to rebalance, to make a bigger change. Now looking at this word the meaning feels more like balancing with smaller more permanent changes.
Like a few years ago, I am still interested in reducing the actual number of hours I spend working each week. My wife retired this past year and I am trying hard to spend more time with her. We have already gone to a number of matinees during the week, and occasionally taken some time off "just to hang out." I want to explore this balance more in the upcoming year while continuing to add value in the career field.
Positivity
Ted Lasso inspired me on this one. Special thanks to my backpacking buddy, Howard who turned me on to the Ted Lasso show in September. I came home from our backpacking trip in Vermont and my wife and I watched both seasons this fall.
Ted Lasso is positive, unassuming, funny, and has a HUGE heart. Each episode had me laughing, crying, and often surprised at what happened.
Humor has always been a big part of my life. I want to BE a positive influence on others and I want to be as upbeat as I can every day. Life is too short to be any other way and the past couple of years have been difficult daily to navigate…sometimes I just have to stop reading articles and move on.
Community
As I think back to what I loved working on this past year, I found myself reflecting on the many zoom calls with people in the career field, many of who were thinking about going into private practice or exploring their own career development related to our field. I really want to continue to help other career practitioners and love the idea of figuring out where I want to spend my time in the career community.
I am also looking at my local community here in Central Maine to figure out where I might spend some time and energy. Of course, I also have a community of family, cousins, and friends that I want to continue to nurture.
---
In February I will share the process I used in choosing these three guiding words. Yes, it happened mostly on my retreat, but this year I did something a little different. I will also write more about what each word means to me in the coming months.
Have you chosen three guiding words for 2022?
If so, what are they and what do they mean to you?
Read how I choose my words this year.
---
Jim Peacock is the Principal at Peak-Careers Consulting and writes a weekly email for career practitioners. Peak-Careers offers discussion-based online seminars for career practitioners focused on meeting continuing education needs for CCSP, GCDF and BCC certified professionals as well as workshops for career practitioners and individual career coaching.
He is the author of A Field Guide for Career Practitioners: Helping Your Clients Create Their Next Move and The Adventure of Finding Me in New Zealand. He is also the recipient of the 2020 Kenneth C. Hoyt Award from the National Career Development Association and the Mid-Atlantic Career Counseling Association's Professional Contribution's Award in 2020.
Sign up to receive my TOP 10 TIPS WHEN WORKING WITH AN UNDECIDED PERSON. You will also receive the career practitioner's weekly email on a variety of career topics, industry news, interesting events, and more. (Sign up)