What are the benefits of reading for career service providers?
This is my annual December interview where I invite fellow book-lovers to talk about books we have read in 2021 and also discuss why we think it is so important for career service providers to read books in our field.
My guests today are Margie Cherry, (Associate Director of Alumni Career Services at Lafayette College), Elizabeth Craig, (Certified Master Career Strategist), and David Lee, (Career Coach).
Here are my questions:
– As a career coach, what is the best book you read in 2021?
– Do you have any other favorites this year that might be more recreational?
– What do you see as the benefits of reading as a career coach?
Note: Below the Bio's is a list of all the books mentioned in this interview
Watch / Listen to the interview now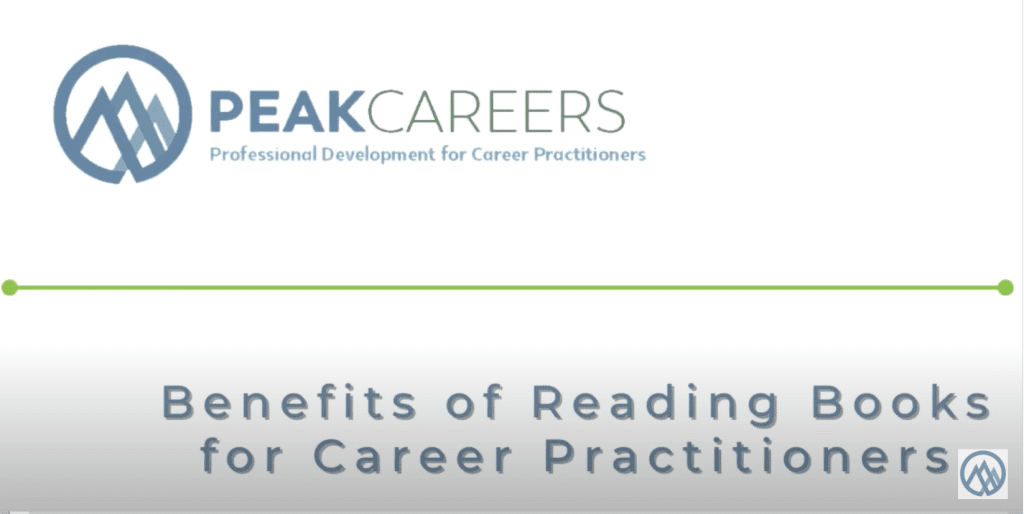 BIO: Elizabeth Craig, MBA, Master Career Change & Job Landing Specialist is the Founder and CEO of ELC Global, LLC (https://www.elcglobal.com) Elizabeth is a multi-certified National Career Development Association (NCDA) Certified Master Career Strategist-CMCS as well as FCD-Instructor. She has received multiple awards for her work in the field including the * Jules Kerlan Lifetime Outstanding Achievement Award – Minnesota Career Development Association * Distinguished Alumni Award – University of Minnesota College of Education & Human Development * Outstanding Career Practitioner Award – National Career Development Association. For more than 25 years her private practice has helped hundreds of career clients with career change, job landing strategies and career advancement.
Margie Cherry, has been a happy career professional for over 20 years. Her multiple identities include being the current Associate Director of Alumni Career Services at Lafayette College, speaker, reinvention guide, former long-running cartoonist, and short-lived stand-up comic. She adores empowering people to discover and manifest their best selves for life and work. Margie holds an MA in Counseling Psychology and is the author/illustrator of "Mom's Comedy Coloring Book". She brings her humor how-to "The Comedy Cure" to organizations in need of stress relief and a good laugh!
David Lee,  is the founder of HumanNature@Work and  a career coach with Heart At Work Associates. Much of his work  focuses on career changers and young professionals trying to decide on a career direction. His approach is influenced by his previous career in the trauma and mind/body medicine fields as a hypnotherapist, as well as his interest in health, wellness, and resilience. A lifelong lover of reading, he grew up in a family that would bring home a large box of books from their monthly pilgrimage to the library. You can connect with him on Linkedin here.
Jim Peacock is the Principal at Peak-Careers Consulting and writes a weekly email for career practitioners. Peak-Careers offers discussion-based online seminars for career practitioners focused on meeting continuing education needs for CCSP, GCDF and BCC certified professionals as well as workshops for career practitioners and individual career coaching.
He is the author of A Field Guide for Career Practitioners: Helping Your Clients Create Their Next Move and The Adventure of Finding Me in New Zealand. He is also the recipient of the 2020 Kenneth C. Hoyt Award from the National Career Development Association and the Mid-Atlantic Career Counseling Association's Professional Contribution's Award in 2020.
Sign up to receive my TOP 10 TIPS WHEN WORKING WITH AN UNDECIDED PERSON. You will also receive the career practitioner's weekly email on a variety of career topics, industry news, interesting events, and more. (Sign up)
Books we discussed
Help Wanted: An A to Z Guide to Cope with the Ups and Downs of the Job Search by Karen Litzinger. (Jim)
Designing Your Life: Burnett & Evans (Margie and Jim, and probably David too- I think he nodded in affirmation. haha)
The Poacher's Son by Paul Doiron (Jim)
John C. Maxwell's, 15 Invaluable Laws of Growth: Live Them & Reach Your Potential. (Elizabeth)
Lean In – Women, Work, and the Will to Lead by Sheryl Sandberg (Elizabeth)
Don't Slurp Your Soup:A Basic Guide to Business Etiquette by Elizabeth Craig is available at https://www.elcglobal.com
"Live Smart After 50! The Experts' Guide to Life Planning for Uncertain Times by the Life Planning Network (Elizabeth is a contributing author)
Think Again: Adam Grant (Margie)
Recalculating: Pollak (Margie)
How to Think Like Leonardo da Vinci: Michael J. Gelb (Margie)
Life Launch: Hudson & McLean (Margie)
Is Your Genius at Work? Dick Richards (Margie)
Tales of a Female Nomad: Rita Golden Gelman (Margie)
Switchers: How Smart Professionals Change Careers — and Seize Success by Dawn Graham (David)
You Turn: Get Unstuck, Discover Your Direction, and Design Your Dream Career by Ashley Stahl (David)
SuperBetter: A Revolutionary Approach to Getting Stronger, Happier, Braver and More Resilient–Powered by the Science of Games by Jane McGonigal (David)
The Right Questions: Ten Essential Questions To Guide You To An Extraordinary Life by Debbie Ford (David)