Recently, I went on another tech-free retreat for the day which I try to do monthly. It is a time to think, read, plan, do walking meditation, and to write. I mind-mapped out five new blogs (one of them is this one). Last week I was working with a student in my Facilitating Career Development (FCD) class and we interviewed each other for one activity and I had a very revealing "aha" moment. She asked me "there are times in our lives when we feel particularly energized and positive. What was yours?"
What immediately came to mind is writing. In the summer of 2018, I started writing my book, A Field Guide for Career Practitioners, and I devoted the first hour of each day (Monday-Friday) to writing. When the book came out in June 2019, I realized I missed writing each morning. In January 2020, I began writing my book on my travels in 1983-84 to New Zealand. Ahhhhhhhh…..I loved it.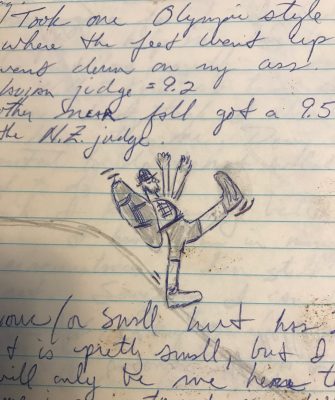 I love framing up blogs each month for people like you, and I also write a Christmas newsletter to family and friends now for over 30 years. Even my New Zealand book was completely based upon seven steno-pads of notes I took on my 8 months of traveling.
But why write?
Writing helps me remember things better. My strongest learning styles are partly kinesthetic and visual. I need to "see" the words in my head on paper and writing them down is so tactile. Even when I attend conferences, I tend to take tons of notes and seldom need to go back to them after. Just the process of note-taking helps me remember key points. But of course, I can go back to my notes and pick up the salient points from the session whenever I want.
Reflecting on the written words is much easier than reflecting on thoughts and ideas in my head. (See Fuzzy Thinking blog from a couple years ago). When I have an idea that I want to explore, writing it down forces me to get it organized in my head. What are the key points? What are the most important points? Why are they the most important? When that is all in my head, it is difficult to see the nuances. 
When it's written, I can see how to best re-order the writing so it makes the most sense. Obviously, when trying to convey an idea or make an argument, it really matters what order you present them. Ultimately, I want you, the reader, to "get it" or to understand my thoughts better. As an extrovert, I can "throw words out" when talking, but often those words really need to be better organized. Writing forces me to take my extroverted words which are flying around the room, and corral them into some type of organized sense.
As I think about this (and write about it) I realize that I write for these reasons.
To Educate: My weekly career emails, my regular blogs, and my book are all examples of me taking an idea or a practice I know, and share it with others to help them improve.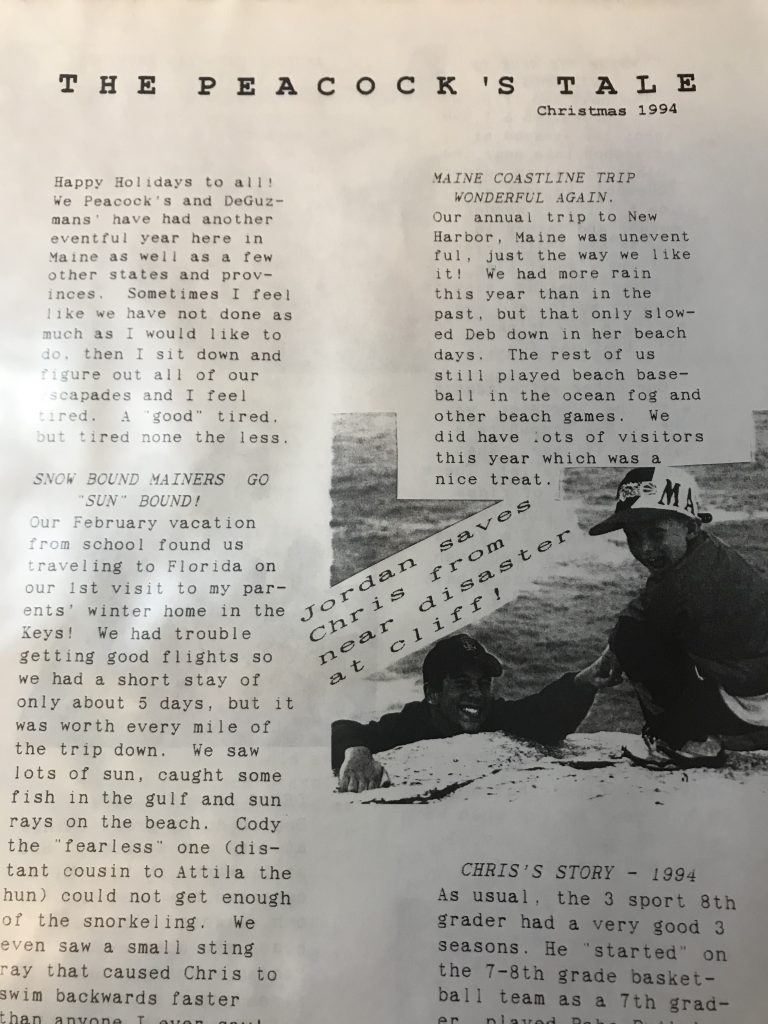 To Entertain: My Christmas newsletters are a recap of our year as a family, but I work very hard to make them entertaining as well. I've kept all of my newsletters over the years, and I know some of my family have kept some of them too.
My friend, Rees, was so disappointed when I converted from the typewriter with all the "whiteouts" (younger folks won't even know what that is), typo's, and mistakes, to the computer where I could "hide" all these changes.
---
Pictured here is my Christmas 1994 Peacock's Tale with all it's imperfections.
---
To Think: I like to journal each morning as a way to slow down and also to flesh out my thoughts on things.
For Legacy: My Christmas newsletters are a bit of legacy, and my New Zealand book about my travels was written for family and friends. Others can enjoy it, but it is a legacy book that I wanted to write for people who know me.
If you are a writer, I'd love to hear why you write.
If you are not writing regularly now, I encourage you to consider creating a routine and finding the time to write, then let me know what you think. (Write it down and send it to me 🙂
---
Jim Peacock is the Principal at Peak-Careers Consulting and writes a weekly email for career practitioners. Peak-Careers offers discussion-based online seminars for career practitioners focused on meeting continuing education needs for CCSP, GCDF and BCC certified professionals as well as workshops for career practitioners and individual career coaching.
He is the author of A Field Guide for Career Practitioners: Helping Your Clients Create Their Next Move and The Adventure of Finding Me in New Zealand. He is also the recipient of the 2020 Kenneth C. Hoyt Award from the National Career Development Association and the Mid-Atlantic Career Counseling Association's Professional Contribution's Award in 2020.
Sign up here to receive my TOP 10 TIPS WHEN WORKING WITH AN UNDECIDED PERSON. You will also receive the career practitioner's weekly email on a variety of career topics, industry news, interesting events, and more.