Each year I choose three guiding words that I focus on each day. Sending this "out to the universe" and thinking about these words seems to create opportunities that build on each word.
Listen to this interview with four other people who also do this practice of choosing guiding words. Learn what their words are for 2021 and how they choose them.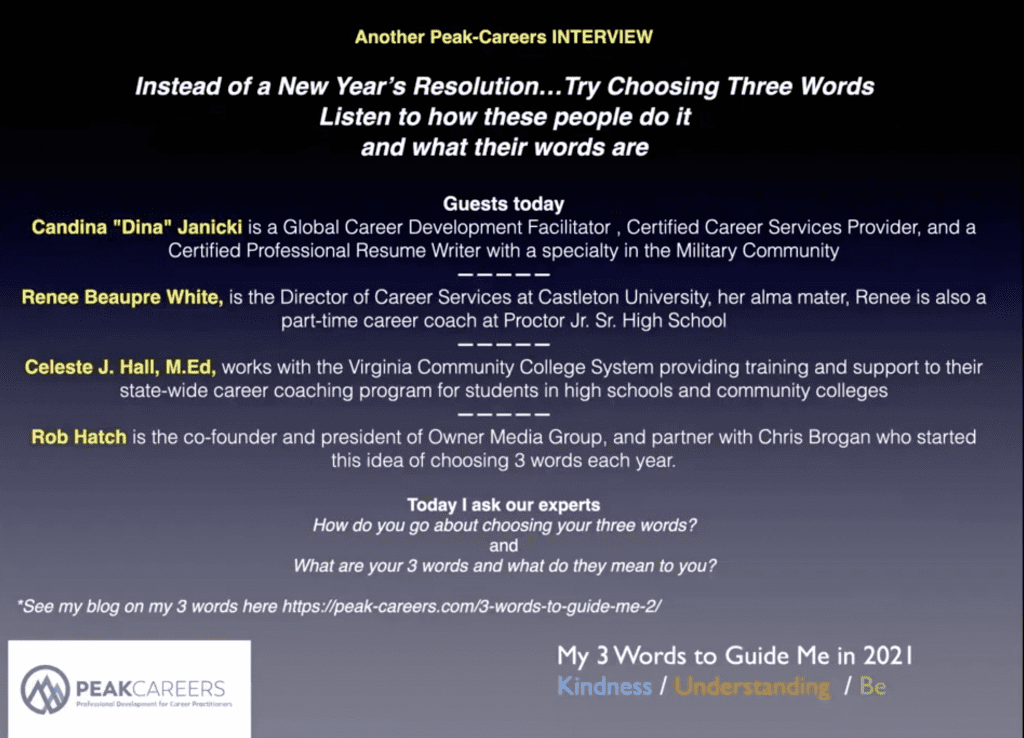 Read my blog explaining my guiding words and how I choose them this year. (READ NOW)
BIOs of the interviewees
Candina "Dina" Janicki is a Global Career Development Facilitator , Certified Career Services Provider, and a Certified Professional Resume Writer with a specialty in the Military Community. Dina works as a Project Operations Manager and Career Development Manager, aiding transitioning service members through the Microsoft Software and Systems Academy (MSSA). She has been a military spouse for 20+ years and volunteers her time to aid other military spouses and veterans through mentorship and career development assistance. She has also authored the article, "Opportunity Found: Chaos Theory for Military Spouse Employment" which talks about the Advantages of Chaos Theory of Careers for Aiding Military Spouses. (Opportunity Found: Chaos Theory for Military Spouse Employment (ncda.org)) . Connect with Dina on LinkedIn
Renée Beaupré White is passionate about helping individuals explore their interests and develop their skills. With more than 30 years' experience in career counseling in higher education, Renee is highly skilled at assisting students and adults in career exploration, development, transition, and the job search process. As the current Director of Career Services at Castleton University, her alma mater, Renee is also a part-time career coach at Proctor Jr. Sr. High School.
Celeste J. Hall, M.Ed, currently works with the Virginia Community College System providing training and support to their state-wide career coaching program for students in high schools and community colleges. Her education career includes classroom teaching and roles as a school counselor and career counselor in high schools and a technical center. She is currently a Trustee representing School Career Counselors and Specialists for the National Career Development Association. Celeste has been involved in the Virginia Career Development Association, her local counseling association, the Virginia Counselors Association, Virginia School Counseling Association and a member of the American School Counseling Association. She is a FCD and SCDA Instructor and holds both the CCSP and GCDF career credentials.
Rob Hatch is the co-founder and president of Owner Media Group, providing strategies and skills for the modern business. He brings a unique blend of knowledge and background in the field of Human Development with his experience as a successful business leader and executive coach, and his weekly newsletter is read by tens of thousands of individuals all over the world. As a speaker, trainer, and coach, Rob works primarily with business leaders and teams, guiding them through critical transitions in their organization. He's the best-selling author of "Attention! The power of simple decisions in a distracted world."
---
Jim Peacock is the Principal at Peak-Careers Consulting and writes a weekly email for career practitioners. Peak-Careers offers discussion-based online seminars for career practitioners focused on meeting continuing education needs for CCSP, GCDF and BCC certified professionals as well as workshops for career practitioners and individual career coaching.
He is the author of A Field Guide for Career Practitioners: Helping Your Clients Create Their Next Move and the recipient of the 2020 Kenneth C. Hoyt Award from the National Career Development Association.
Sign up here to receive my TOP 10 TIPS WHEN WORKING WITH AN UNDECIDED PERSON. You will also receive the career practitioner's weekly email on a variety of career topics, industry news, interesting events, and more.