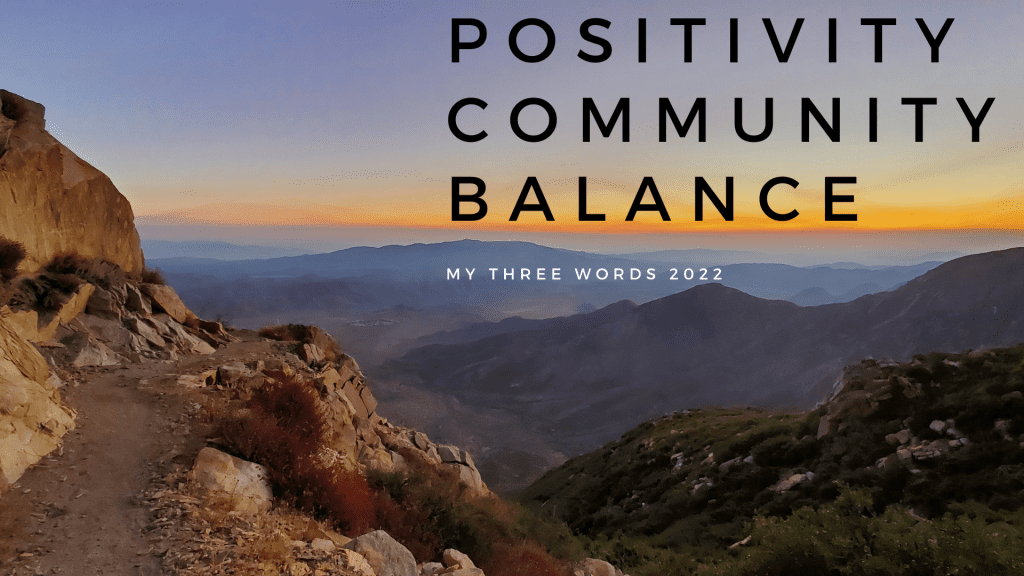 One of my three words to guide me in 2022 is positivity. I thought about using "humor" or "laughter" but ended up on the word positivity because it is a word I can connect with daily. It is broader than laughter and I can look for ways to simply be more positive in my daily life and to find joy in my life. (Read more about my words)
The impact of the pandemic over the past two years has permeated my life in so many ways. I feel more fatigued and I truly miss human contact.  Before March 2020 I could attend in-person conferences and live concerts with hundreds of people without giving it a thought. Now I have to think about whether it is worth taking the risk… Staying positive has been more challenging than it had been before the pandemic.
So how do I work on positivity? 
How do I find joy?
Here are a few things I do to help me look at the brighter side of life. Some are subtle and small, others make me smile just thinking about them.
Walking every morning. Some mornings my wife joins me to start our day. On other days I plug into a walking meditation app and begin my day focusing on the here and now. I pay attention to the birds singing, the wind blowing, the feel of my feet on the ground, my legs, my torso, my arms, and my head. All things to be present and in the moment. It slows me down, centers me, and makes me happy.
Journaling. Most days I start by writing down my thoughts and emotions in a journal. First, I write down my three words for 2022 to keep them in front of me and will sometimes note what a word makes me think of in that moment. Then I write whatever is on my mind. Sometimes it is work-related. Other times it's personal. But the act of writing down these thoughts helps me "look at them" and it makes me feel better just knowing what they are and how important they are to me.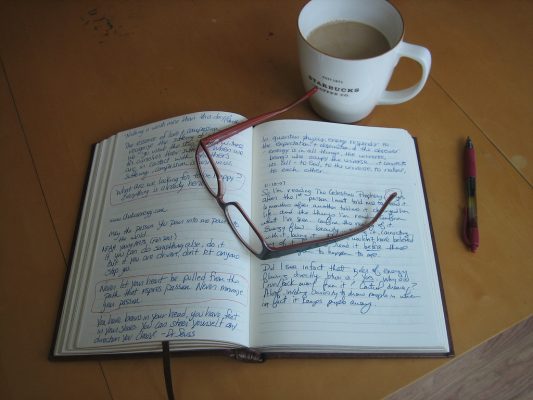 Thank you notes bring me joy. My three-month calendar is lined with thank you notes. Recently, I received one of the nicest thank you emails and decided to put it into my Google calendar so that it pops up once a month and I can reread it. It makes me feel SO GOOD—I can't tell you how much. Then I got another one. So now on the 4th Tuesday of every month my calendar "pops up" a reminder at 5:00 pm titled "comments to make me happy." Most of the time I have forgotten about it and I reread the thank you notes and it makes me smile.
Reading about happiness. I've loved Greater Good Magazine ever since I took an online class on happiness through the organization years ago. The class was one of the best I ever took and the regular emails/newsletters I get are wonderful. Here is an article that came out recently about doctors who prescribe happiness to their patients. I love it! As the article states, sometimes writing a thank you note is all we need to make us feel better. I had some Peak-Careers notes made up at the local print shop to have on hand whenever I wanted to send a thank you.
What do you do to make yourself feel
happier, more positive, or bring you joy?
---
Jim Peacock is the Principal at Peak-Careers Consulting and writes a weekly email for career practitioners. Peak-Careers offers discussion-based online seminars for career practitioners focused on meeting continuing education needs for CCSP, GCDF and BCC certified professionals as well as workshops for career practitioners and individual career coaching.
He is the author of A Field Guide for Career Practitioners: Helping Your Clients Create Their Next Move and The Adventure of Finding Me in New Zealand. He is also the recipient of the 2020 Kenneth C. Hoyt Award from the National Career Development Association and the Mid-Atlantic Career Counseling Association's Professional Contribution's Award in 2020.
Sign up to receive my TOP 10 TIPS WHEN WORKING WITH AN UNDECIDED PERSON. You will also receive the career practitioner's weekly email on a variety of career topics, industry news, interesting events, and more. (Sign up)