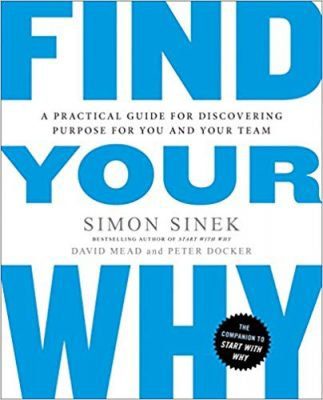 A Practical Guide For Discovering Purpose for You and Your Team. With David Mead and Peter Docker
This book had been recommended to me by a number of people and is all about how you figure out your WHY. In other words, WHY do you do what you do?
Not WHAT you do or HOW you do it, but the real WHY you do it. The authors show how to do this work for individuals and also for teams or companies. There is an extensive facilitator section if your company or team were to work with an outside person (recommended) to facilitate a 4 hour workshop to help your company or team figure out their WHY.
Your WHY statement should look like this…
To __________________ (contribution of some sort) so that ___________________ (impact).
Example: I strive to help people (contribution) to be the best version of themselves (impact).
Every organization and every person's career has three levels. What we do, how we do it, and why we do it. This is represented with a bullseye like circle with three rings. The inner circle is the WHY. The next ring is the HOW and the outer ring is the WHAT.
I am working on mine and it goes something like this…
I help career service providers improve their skills so that the greatest number of people receive quality career services.
My how's are: practical, engaging, collaborative, and authentic career content.
My what's are by delivering quality newsletters, weekly content, the Facilitating Career Development (FCD) class, webinars, and online discussion-based seminars.
I am also working on my career coaching WHY and here is my draft for that area.
I help people reframe their current career situation to create their next career move.
This book really helped me think about what motivates me more and how a company could use this book to create a team WHY. This is a follow up to Simon Sinek's book, Start With Why, and his very popular TED Talk. Here is his edited version of his talk.