Join me for another Peak-Careers Interview with a few of my kindred spirits in the book world.
My guests today are:
— Scott Woodard, is a career development coach
— David Lee  is a trainer and job search strategist
— Amy Pierce-Danders is the founder of E³ Coaching Studio.
(1) How do you find the time to read? When is it? 
(2) Favorite books in 2022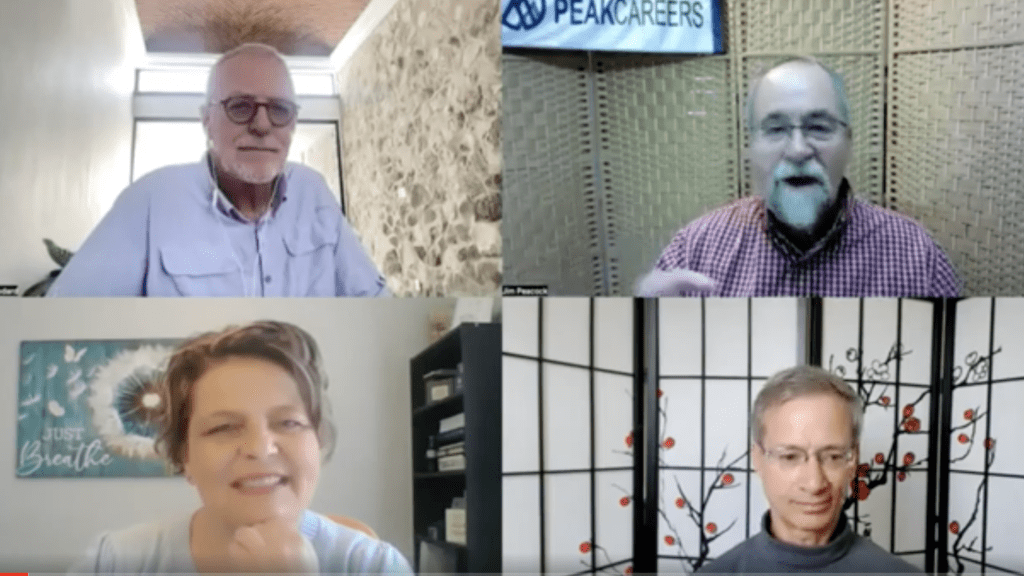 Here are the books we mentioned in the interview:
Wisdom At Work: The Making of a Modern Elder, by Chip Conley
The Great Work of Your Life by Stephen Cope
The Subtle Art of Not Giving A F*ck, Mark Manson
The Untethered Soul, Michael Springer
Dare to Lead: Brave Work. Tough Conversations. Whole Hearts, by Brene Brown
From Strength to Strength by Arthur C. Brooks
The Boy, the Mole, the Fox and the Horse by Charlie Mackey
BIO's
Scott Woodard is a career development coach, helping people advance in their careers. He customizes a framework of Purpose, Clarity, Focus, and Strategy to help clients identify and articulate the story of their unique value — their Leadership Narrative. He works with them to develop clear, concise, crisp (not canned) stories that convey their value; how they achieve that value; and examples of those achievements. He then develops strategies that help get them to where they want to be.
Scott has coached people from all walks of life: corporate executives and elected officials challenged to transform their organizations; Boomers trying to determine the "second acts" of their lives, and new graduates starting out in their first career.
He lives the ex-pat life in Ajijic, Mexico with his wife, a retired psychotherapist — so he is truly in touch with his feelings. He can be reached by email at [email protected].
Amy Pierce-Danders is the founder of E³ Coaching Studio.  Her sole driver as a Career+Life Strategist is to act as a guide to help humans uncover their purposes and passions so they can live an unapologetic life. Amy has helped over 3,000 people in their journey. Her desired legacy is to leave an imprint of impact on the corner of the world she touches. Amy is a sought-after trainer delivering impactful career development and workforce readiness programs; she has presented at 100+ events.Amy Pierce-Danders Career+Life Strategist(616) 552-9702[email protected]Social Channels: www.e3coachingstudio.comFacebookLinkedIn
David Lee is a Job Search and Career Change Coach and the founder of SoulSatisfyingWork.com. A 3X career changer, he has an extensive background in the mind/body medicine and resilience fields, as well as over 20 years as a corporate trainer and keynote speaker. He's the author of Dealing with a Difficult Co-Worker as well as over 100 articles and book chapters on individual and organizational performance. You can learn more about him at his website and Linkedin links
https://soulsatisfyingwork.com/  https://www.linkedin.com/in/davidlee-maine 
---
Jim Peacock is the Principal at Peak-Careers Consulting and writes a weekly email for career practitioners. Peak-Careers offers discussion-based online seminars for career practitioners focused on meeting continuing education needs for CCSP, GCDF and BCC certified professionals as well as workshops for career practitioners and individual career coaching.
He is the author of A Field Guide for Career Practitioners: Helping Your Clients Create Their Next Move and The Adventure of Finding Me in New Zealand. He is also the recipient of the 2020 Kenneth C. Hoyt Award from the National Career Development Association and the Mid-Atlantic Career Counseling Association's Professional Contribution's Award in 2020.
Sign up to receive my TOP 10 TIPS WHEN WORKING WITH AN UNDECIDED PERSON. You will also receive the career practitioner's weekly email on a variety of career topics, industry news, interesting events, and more. (Sign up)