My good friend and backpacking buddy, Howard, sent me this book right before he clicked off another couple hundred miles of the Pacific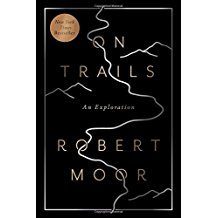 Crest Trail (PCT). I finished it shortly after he got off the trail and we were able to talk about "trails".
I truly enjoyed this book, written by a person who has obviously done some long-distance backpacking. Having around 1500+ miles of the PCT completed, mostly in 110-125 mile segments, but also one 200 mile stretch, and the original 400-mile backpack. He talks about the 'meditation of the trail' which truly resonates with me. I find it so cleansing to walk 100+ miles. I never feel more like myself than on the trail. All the clutter of the world is reduced to walking 15 miles/day, sleeping, eating, repeat.
But this book is more about the trail than the hike. He talks about the trail as following something. That trail was made to go somewhere and if you are on it, you are going where that trail maker wants you to go. His thoughts are developed by hiking the Appalachian Trail (AT) and he talks about the community that builds with other long distance hikers. He expected loneliness but found community. Then struggles with the feeling of "freedom" you'd expect with the fact there is no freedom, if you are following a trail that does not give you choices 🙂  Gotta love this guy. A bit of Motorcycle Maintenance in here.
I was fascinated thinking about the fact that many roads we drive on were originally Native American trails that became a horse and buggy trail, then a road for a car. So even when I am driving now, I think of the past and what this "trail" was used for 300 years ago.
Much of this book explores why the AT still ends at Baxter State Park's Mt. Katahdin, and why the International Appalachian Trail (IAT) heads from there up to Canada AND across to Morocco! Yes, Morocco! Very interesting indeed.
This is a wonderful book for backpackers to read and other to possibly understand us. Have a dictionary nearby, Robert's vocabulary is inspiring.