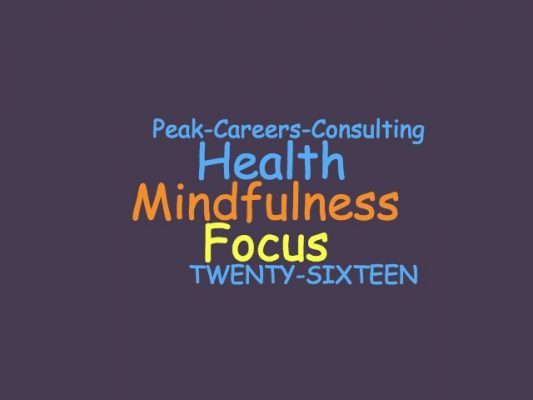 I have been inspired by Chris Brogan's blog that he has been doing for ten years where he chooses 3 words to guide him through his year. I have also spoken with my good friend Sabrina Woods about this in the past and decided that this year was my year to do this.
New Year's resolutions and goals are great but I really like Chris Brogan's idea of choosing three words that you can remember and that guide you in your decisions and thoughts throughout the year. As I approach my 4th anniversary of full-time with Peak-Careers Consulting, this exercise "feels" right to me. I've learned so much about owning my own business since 2012 and each year gets clearer to me. Each year I've grown and I can only hope that 2016 continues to that trend.
Here are my three words and what they mean to me.
HEALTH: I really want to make Peak-Careers 'healthy'. I need to ensure that each part of my business gets attention and focus. It also means that I need to keep myself healthy by eating right, exercising, and thinking positive thoughts. I have always been active, but as I get older I know I need to push my metabolism more and continue meditating regularly.
FOCUS: In order to maximize my work and contribute at the highest level, I am convinced that I need to focus on each part of my work weekly. In the past I felt like I was running from one to the other. I want to gain more control over my time and to create a working plan for each. One way I am going to try and do this is to set a timer for 30 minutes and truly focus on one item, no distractions, then take a short break, and either continue that item or to move to another one. I am hoping that the 30 minute blocks will help keep me focused. I also want to do a better job at identifying my top 13 things that need to be done each day. (That is 8 hours divided by 35 minutes – 30 minute blocks and 5 minute breaks).
Focus applies to my personal life as well. I want to work hard during the week and keep my weekend work to less than 2 hours Saturday. I want to continue my quality time with my wife and friends.
MINDFULNESS: I took a MOOC (Massive Open Online Course) through University of California-Berkeley on the Science of Happiness a couple years ago and was introduced to the idea of 'mindfulness' there. Since then I have been following The Greater Good Science Center newsletter and have been attempting to meditate daily. I particularly love 'walking meditation' because it is what I have been doing for years while backpacking...I just didn't know it. Mindfulness is similar to focus but when I think of mindfulness I am thinking about slowing down, BEING PRESENT.
For my business, I want to take weekly time where I get out of my office at home and go someplace different with only my laptop to write and think. In Richard Leider's book, Repacking Your Bags he talks about the importance of taking a full day off of no electronics, a sort of sabbatical from the internet, phones, and all communication. I talked about doing it in 2015, but I am going to do it in 2016.
I also am looking for a place in Central Maine where I can go on a retreat 3-5 times a year. My brother Mark has been doing this for years and most recently at a local monastery that is available to him. He has inspired me to make this a priority. One of my Peak-Careers Advisory Board members, after reading my first business plan (which was VERY ambitious) asked me, "When are you going to find time to just stop and think?" 2016 is the year I truly commit to this.
What three words can you come up with as your theme in 2016?
—————————————————-
Jim Peacock is the Principal at Peak-Careers Consulting and writes a monthly newsletter for career practitioners. Peak-Careers offers discussion-based online seminars for career practitioners focused on meeting continuing education needs for CCSP, GCDF and BCC certified professionals as well as workshops for career practitioners and individual career coaching.
Sign up here to receive my TOP 10 TIPS WHEN WORKING WITH AN UNDECIDED PERSON. You can also receive the career practitioners newsletter which includes a variety of career topics, industry news, interesting events, and more.