Today I ask our experts:
Why is it so important to take the time to envision the next 3-5 years
as a person or a business?

What recommendations do you have for people who want to do this exercise?
My guests today are Sabrina Woods, Holistic Career Coach, LinkedIn Trainer & Consultant and Megan Piper, Principal of Piper Consulting helping leaders clarify their vision and create traction through building a healthy company. Both Sabrina and Megan help people and businesses envision their future.
I attended Sabrina Woods' annual retreat "Going Beyond New Year's Resolutions: A Retreat to Reflect on What Matters this past January and I also had the pleasure of attending Megan's workshop she did for the Maine Association of Training & Development this spring. Both were enlightening and helped me look forward in my personal and work like.
*See my blog on my why I take monthly tech-free retreats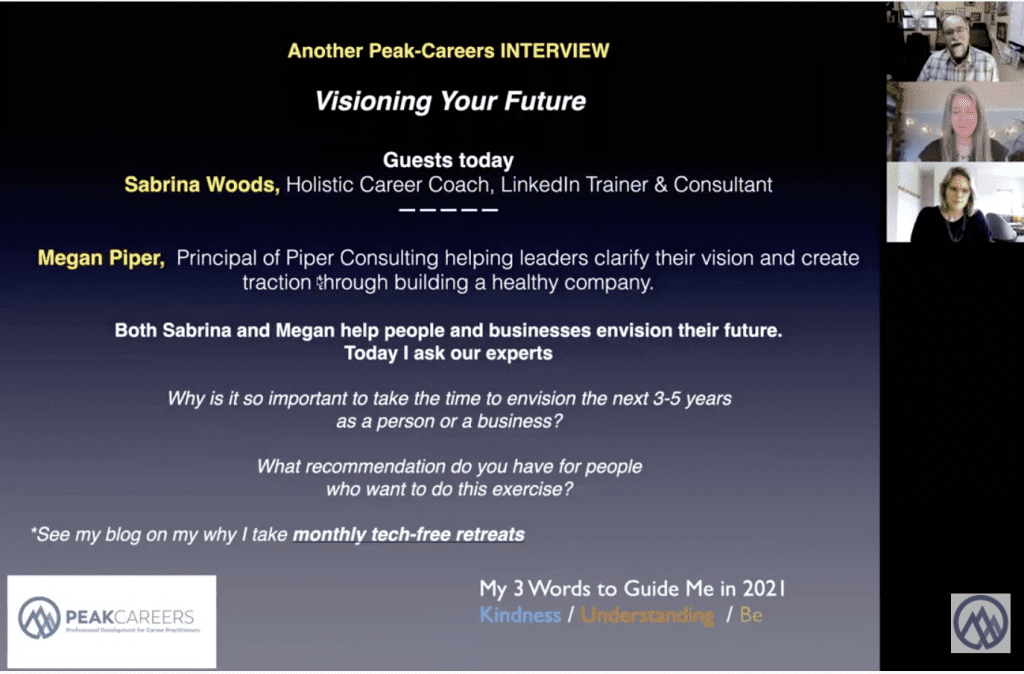 BIO's
Sabrina Woods is a Holistic Career Coach, LinkedIn Trainer & Consultant. She has 20 years of experience in the career services field including work at Harvard and Northeastern University. She is also the president of the Career Counselors Consortium professional association based out of Boston. For more info: www.sabrina-woods.com or www.linkedin.com/in/sabrinawoods.
Megan Piper is an Entrepreneurial Operating System Implementer helping leaders clarify their vision and create traction through building a healthy company. She instills purpose, accountability, and discipline, and provides tools to measure progress against meaningful metrics. Megan is uniquely qualified to advise organizations with years of executive experience across diverse environments, from IT to e-commerce, healthcare to non-profits.
https://piperconsultingco.com/ https://www.linkedin.com/in/meganpiper/
---
Jim Peacock is the Principal at Peak-Careers Consulting and writes a weekly email for career practitioners. Peak-Careers offers discussion-based online seminars for career practitioners focused on meeting continuing education needs for CCSP, GCDF and BCC certified professionals as well as workshops for career practitioners and individual career coaching.
He is the author of A Field Guide for Career Practitioners: Helping Your Clients Create Their Next Move and The Adventure of Finding Me in New Zealand. He is also the recipient of the 2020 Kenneth C. Hoyt Award from the National Career Development Association and the Mid-Atlantic Career Counseling Association's Professional Contribution's Award in 2020.
Sign up here to receive my TOP 10 TIPS WHEN WORKING WITH AN UNDECIDED PERSON. You will also receive the career practitioner's weekly email on a variety of career topics, industry news, interesting events, and more.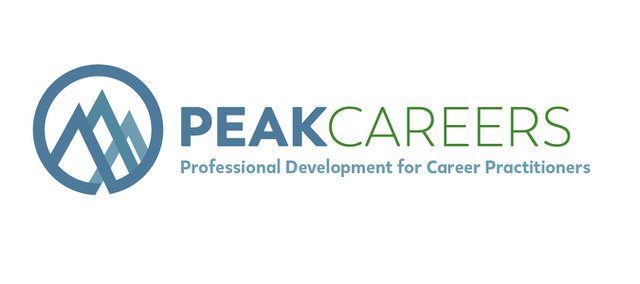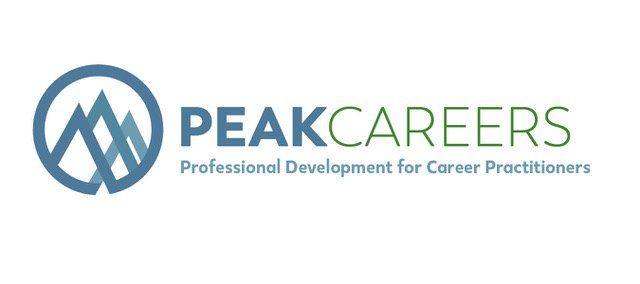 Note: Featured image Image by Gerd Altmann from Pixabay