Another Peak-Careers Interview. Join me here where I interview three past-presidents of the National Career Development Association. Dr. Lisa Severy, Dr. Seth Hayden, and Dr. Lakeisha Mathews.
Today I ask:
What do you see as the benefits for being involved with a professional association?
What advice can you give to people new to the career development profession?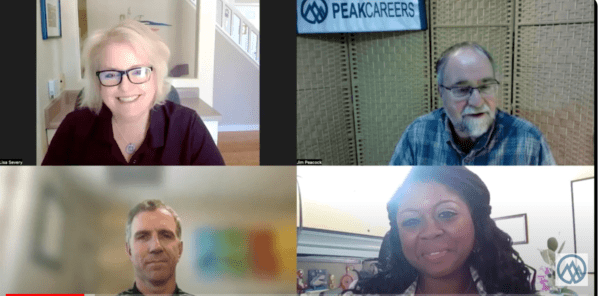 BIO's
Dr. Lisa Severy has been a leader in career development, counseling, and higher education since 1996.  Lisa is an NCDA Certified career counselor and has worked with students and alumni at the University of Florida, University of Colorado Boulder, University of Phoenix and in private practice. Lisa earned her bachelor's degree from Indiana University and has three graduate degrees, including a PhD in Counselor Education, from the University of Florida.  She was President of NCDA in 2013-2014 and served as the NCDA Rep to the ACA Governing Council from 2017-2023.
Dr. Seth Hayden is an associate professor of counseling, coordinator of the clinical mental health
program, and associate director of the online counseling program at Wake Forest University. Prior to
his role at Wake Forest University, he was the program director of career advising and counseling at
the Florida State University Career Center. He currently serves as a senior research associate in the
Florida State University Career Center Tech Center.

His research focuses on the connection between career development and mental health. In addition,
he examines the career and personal development needs of military service members, veterans, and
their families.

Dr. Hayden is a licensed clinical mental health counselor in North Carolina, a national certified counselor,
a certified clinical mental health counselor, and an approved clinical supervisor. He is also a co-editor
of the Journal of Military and Government Counseling and associate editor of The Career
Development Quarterly. He's a co-author of two NCDA monographs, Group Career Counseling: Practice
and Principles, and Career Development for Transitioning Veterans. In addition, Dr. Hayden is a past
president of the Military and Government Counseling Association and the National Career
Development Association, both divisions of the American Counseling Association.
Lakeisha Mathews, Ed.D, is Director of the Career and Internship Center at the University of Baltimore and is also the owner of Right Resumes & Career Coaching, career development business focused on providing professional documents, career coaching and training for mid-level and mid-management professionals in a variety of industries.
Dr. Mathews holds several industry certifications including Certified Career Coach, Certified Resume Writer, Global and Career Development Facilitator, and Executive Career Coach among other designations. She holds an Ed.D. in Higher Education Leadership & Innovation from Wilmington University, a  M.S. in Human Resource Development from Towson University and a B.A. in Communication from the University of Maryland College Park.
Lakeisha is committed to the field of career development and in 2011, she was elected as president of the Maryland Career Development Association. In 2017 she was elected Trustee-at-Large for the National Career Development Association (NCDA) and formally served as the Trustee for Higher Education Career Counselors & Educators. She served as President of NCDA from 2022-2023 and traveled to Canada, Italy, Egypt, and Taiwan during her tenure to inspire career professionals around the world.
Of most importance is Lakeisha's client-centered approach to career coaching. Hearing success stories continues to be the favorite part of her job as a Higher Education Administrator, Educator and Career Coach!
———————————————————————————
Jim Peacock is the Principal at Peak-Careers Consulting and writes a weekly email for career practitioners. Peak-Careers offers discussion-based online seminars for career practitioners focused on meeting continuing education needs for CCSP, GCDF and BCC certified professionals as well as workshops for career practitioners and individual career coaching.
He is the author of A Field Guide for Career Practitioners: Helping Your Clients Create Their Next Move and the recipient of the 2020 Kenneth C. Hoyt Award from National Career Development Association.
Sign up to receive my TOP 10 TIPS WHEN WORKING WITH AN UNDECIDED PERSON. You will also receive the career practitioner's weekly email on a variety of career topics, industry news, interesting events, and more. (Sign up)