I updated this post in January 2020 to reflect changes LinkedIn has made this year.
Every 6 months I back up my profile & contacts. I suggest you do too, you'd really hate to lose all this hard work you've put in, wouldn't you?
Remember, you do not OWN LinkedIn and should protect your investment of time.
1. Go to your Profile Picture at the top of the page and click on the little down arrow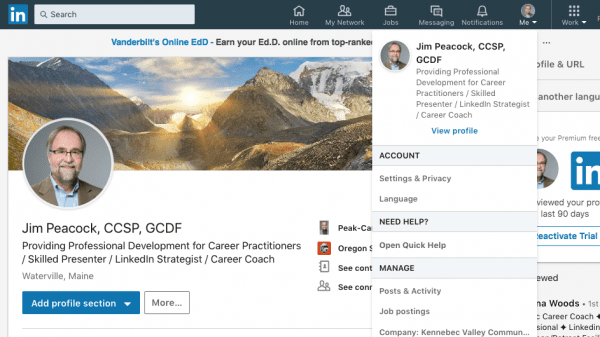 2. Select SETTINGS & PRIVACY
3. Scroll down to GETTING A COPY OF YOUR DATA
4. Select what you want to save. You should at minimum choose PROFILE and CONTACTS.
They will email you the files.
Save it 🙂
The profile backup is a PDF that you could use to replicate all your text if needed.
Sleep well knowing you're hard work and connections have been saved.
————————————————–
Jim Peacock is the Principal at Peak-Careers Consulting and writes a monthly newsletter for career practitioners. Peak-Careers offers discussion-based online seminars for career practitioners focused on meeting continuing education needs for CCSP, GCDF and BCC certified professionals as well as workshops for career practitioners and individual career coaching.
Sign up here to receive my TOP 10 TIPS WHEN WORKING WITH AN UNDECIDED PERSON. You can also receive the career practitioners newsletter which includes a variety of career topics, industry news, interesting events, and more.