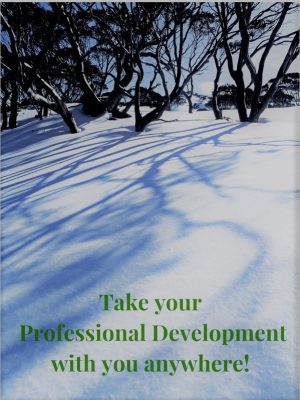 As many of you know, I am a huge promoter of professional development in our field. We need to constantly be learning how to better serve our clients and we can do that a variety of ways.
Attending conferences like National Career Development Association and Mid-Atlantic Career Conference and your state associations

Participate in classes, seminars (online or live), webinars

Watch Ted Talks (look for my April newsletter on this)

Read professional books or journals
I would like you to consider adding podcasts to this list.
A few years ago, a person in my Boomer online seminar turned me onto a podcast called Meditation Oasis which has a number of different meditations to listen to. My favorite is her "Relax Into Sleep." Then last summer I was talking with Marc Miller of Career Pivot via video-conference. He talked about how he was listening to a number of different podcasts when he walked to the coffee shop, and how much he felt he was learning daily because of it.
Since then I have added about eight different podcasts to my regular listening. They range from a few that focus on entrepreneurship and marketing topics, to a number that focus on career topics. Of course there are many others that include news agencies like public broadcasting and entertainment.
I try to listen to a few podcasts weekly. Occasionally I download one to my phone and listen in my car while I drive to Portland once a week where I work at a career counseling and outplacement firm. Other times I will plug in and listen while walking in the neighborhood on one of my daily breaks, or I will just take a half hour and sit and listen to a podcast because I may want to take notes.
Regardless of when and how you do it, I strongly encourage you to add podcasts to your professional development modes of learning.
Read my interview with Marc Miller to learn what his and my favorites are. Click here.
Interested in reading other blogs on professional development? Click here.
Do you listen to podcasts?
If so, what are your favorite podcasts?
—————————————————–
Jim Peacock is the Principal at Peak-Careers Consulting and writes a monthly newsletter for career practitioners. Peak-Careers offers discussion-based online seminars for career practitioners focused on meeting continuing education needs for CCSP, GCDF and BCC certified professionals as well as workshops for career practitioners and individual career coaching.
Sign up here to receive my TOP 10 TIPS WHEN WORKING WITH AN UNDECIDED PERSON. You can also receive the career practitioners newsletter which includes a variety of career topics, industry news, interesting events, and more.