We all learn daily, from infancy to old age. You can't help it as your senses pull in information from a variety of sources and you have to do something with that information. For most of us, we are processing information at a variety of levels from the subliminal level, the physical level, and the intellectual level.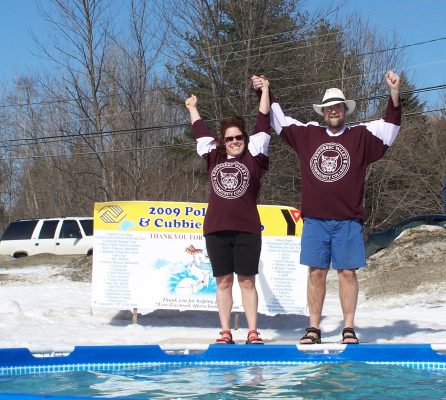 We live in the information age as well and have to figure how to sift through the enormous volume of information. (By the way, thanks for reading MY information here 🙂 Humans learn through instrumental & associative learning. Instrumental is when you receive positive feedback from figuring something out on your own and associative learning is when you watch others do something and you say, "that was a good idea" or "I'm not gonna do THAT!" (which is how my younger brothers learned watching me make mistakes). Apparently I also have to learn that swimming in a pool in the winter is a bad idea too!
Another great way to learn is from identifying people you can model. Think about an area you need more information on, like using social media to reach clients, or new ideas on improving your orientation, whatever you need help on right now.
Now go to your LinkedIn contacts page, your business cards, your cell phone contacts, email contacts, anyplace you have lists of contacts, and peruse your list for people who can help you. Reach out to them and ask if they could help you figure this out, learn more about it, or guide you to resources that could help you. Call these people what you want, your network, resources, or mentors, but we all have them and we should all BE one for others.
4 things to do if you really want to learn at your job
1. Identify people in your company who have areas of knowledge that you want. Then watch what they do and ask them questions.
2. Identify people who have been in your company or industry for 20 years or more. Watch what they do and ask them questions about their perspective on situations. This historical knowledge may not have all the "bells & whistles" of the newest way of doing things, but can be rich in perspective that can help you.
3. Think about your areas of weakness in your work. Who out there, in your company or in your industry, can you identify as a role model? You might find them on LinkedIn groups, presenting at conferences, leading in-service trainings, or in your professional journals. Reach out to them and ask for advice.
4. Look around you at younger people or new people in your company. What do you have that might be helpful to them? Is there a way for you to reach out to them and offer assistance? Of course, without coming across like you have ALL the answers, but as a way of supporting their professional development.
We live in an "open source" world where by helping others, you can often help yourself in the long run.
Learn from doing.
Learn from watching.
Learn from asking for help or information.
Learn from actually helping others.
But whatever you do….learn.
—————————————-
Jim Peacock is the Principal at Peak-Careers Consulting and writes a monthly newsletter for career practitioners. Peak-Careers offers discussion-based online seminars for career practitioners focused on meeting continuing education needs for CCSP, GCDF and BCC certified professionals as well as workshops for career practitioners and individual career coaching.
Sign up here to receive my TOP 10 TIPS WHEN WORKING WITH AN UNDECIDED PERSON. You can also receive the career practitioners newsletter which includes a variety of career topics, industry news, interesting events, and more.