35 Wellness Walks to Expand Awareness, Increase Vitality, and Reduce Stress. By Glenn Berkenkamp
I enjoy walking. I love backpacking and hiking. My backpacking buddy, Howard, bought me this book recently and has helped me understand why I love walking so much. This book 35 different walks with details of why you might do them, how, and what you might learn from doing them.
They range from walking meditation (which I do nearly daily), Full Moon Walk, Gratitude Walk, Slow Motion Walk, and all the way to a Backward Walk.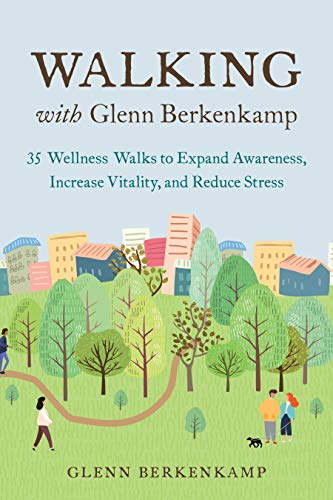 The big lesson here is focusing. Focusing on the present moment you are in and connecting the movement of walking to your head, heart, and hara (your center).
I particularly embraced his GBS start for every walk. You start every walk by turning off your cell phone (or leaving it behind).
G- ground yourself to the earth
B- find your breath. Take a couple of deep breaths.
S- Sense the space around you.
I find myself when I walk taking the time to do his GBS start and really "think" about where I am before I just start cruising. If you enjoy walking and want to explore ways to go deeper in 'being present' in your walks, this is a great book for you.