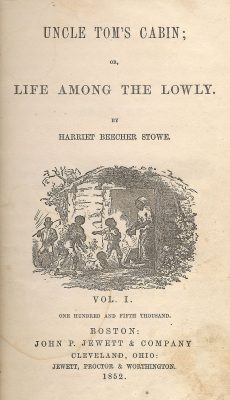 Yes, I just read Uncle Tom's Cabin, published in 1852. I had never read it before and while reading David McCullough's book The Pioneers, he referenced that as Ohio was being developed (then called the Northwest Territories), they wrote their constitution to include that they would be slave-free state and he mentioned that Uncle Tom's Cabin was a hugely influencing book on that topic.
This book was written at a time in our country when the discussions about slavery were rampant. Harriet Beecher Stowe listened to many stories from actual slaves and freed slaves and wove those true stories into her book. It is incredible that much of what is in this book was based on fact.
She was also able to really bring the different views of slavery into the book, from the slave owners and slaves to the people who lived in New England and New York. It is an eye-opening book filled with insight into how troubling and difficult the times were.
I found myself aghast at times to the terrible treatment that some plantation owners did to their slaves and to the view that these people were "property". It makes me sad just thinking about this "scar" on our history.
If you have not read this book, I highly recommend it. Read the final chapter first where it talks about how Harriet wrote this book based upon actual lives. Wow…