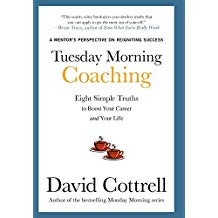 Eight Simple Truths to Boost Your Carer and Your Life.
This is a quick read that I found very inspirational. It is told as a story of the author meeting with a mentor Tuesday morning's for 8 weeks and each week was a lesson on how to improve his work and personal life.
Here are the key points made that are elaborated on in the book.
No Matter What – accept responsibility and move forward
And Then Some – give what is expected and then some
Consider it Done – be consistent and dependable
Above All Else – adhere to your values
From Now On – learn from mistakes and welcome change
See It, Feel It, Trust it, Do It – create goals, write them down, make them achievable and measurable
Focus Inside The Boat – pay attention to what you can control and don't procrastinate
Knowledge Is Power – be a lifelong learner.
I feel like I already do much of this but this book has helped me focus and reinforces the good stuff I am doing…and will continue to do.
The other lesson I thought that was insightful is "Do something different each week". This is challenging and a great way to learn.
Some good quotes
Most people who are unhappy in life are unhappy because they don't have goals or a sense of purpose.
Multitask only if you want to multiple things poorly at once.
It's okay to fail – everyone fails at some point – but it's not okay to keep failing.