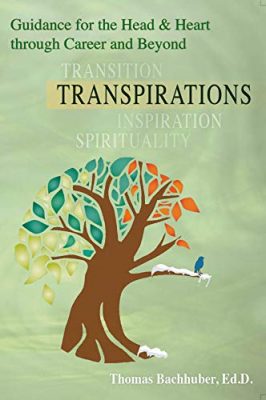 I had posted on LinkedIn about my Transitions online seminar and that Dr. Nancy Schlossberg had been helpful in providing an article for week 1 and that week 2 was all about William Bridges' theory on transitions, and Tom Bachhuber posted some of his thoughts on LinkedIn. Next thing you know, we are sending each other additional messages and he offers to send me his book on Transpirations.
Transpirations is a combination of "transitions" and "spirits"as he says, "transitions inspired by the spirit." Tom weaves in a spiritual side to career transitions that is very well done. It does not feel preachy at all. Only supportive of the career transition, non-judgmental and personal.
I love how each chapter was set up with a personal journal excerpt from his huge transition event of going through cancer or his failing older parents, followed by very good practical advice on career transitions, then thought-provoking questions to help you explore the topic further with space to write your thoughts down.
The book is broken into three major sections based upon William Bridges's theory that you must begin with the end (if you were laid off, you must "end" that experience), then move to the neutral zone where it can be very confusing, and then you can actually "begin" something new.
Each section starts with what you will be experiencing in emotions, key tasks, spiritual questions, and then Ignation reflections.
I also love how he brought in other thought-leaders on transitions from Richard Bolles to Mary Oliver and some of her poetry, all for the purpose of supporting stages of the transition process and to get you thinking.
If you are looking for great career advice to help you through any type of career transition and would like to have some spiritual guidance as well to get through difficult times, this book is highly recommended.
I found great comfort in reading this book every morning to start my day.