By Joshua M. Powell
If you've hiked the PCT or other long-distance trails, you'll enjoy this take on the experience of hiking for days. Its hard to do a book on the PCT these days because so many have been done, but this is a fresh look at the trail in many ways.
He is a list maker. He has lists for songs that were going thru his head in a section, to daily notes with weather (and more), struggles he was going thru, toponyms (how the names of rivers, peaks, etc… came about), and more. So many of these made me smile because they reminded me of that section. i.e. the mosquitoes in Oregon…wow! I'd forgotten about them until I read his section on OR.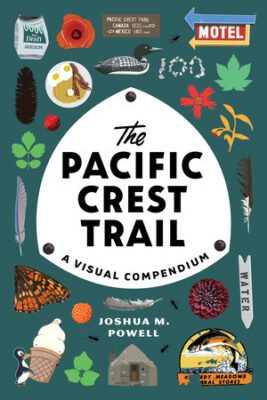 He is an amazing artist as well and includes all images he's drawn of sign posts, building, mountain peaks, flowers, animals, people, and more.
I really liked his little "Ask a thru-hiker" stories he scattered throughout. I had this book for a long time and was not motivated to read another book on the PCT but once I started, I could not put it down. It was so enjoyable and brought back so many memories of what I was thinking and experiencing at the time.