If you liked the movie, The Irishman, by Martin Scorsese, you'll love the book. Originally published as I heard you paint houses, (mob lingo for killing someone), but I am sure he sold another 100,000 copies of the book after the movie and needed to change the name 🙂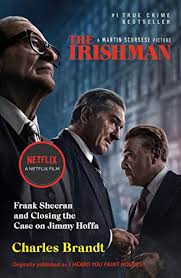 This inside look at the Mafia still astounds me. Jimmy Hoffa was playing with the mob and Frank Sheeran, the Irishman, found his way into the mob as the enforcer. To think that "Jimmy Hoffa was as powerful as the President of the United States " is dumbfounding. He didn't get that powerful without the mob.
Sheeran not only painted houses, but he is also a carpenter. That means he disposes of the bodies too. Holy crap!! This guy was heartless, but at the same time you grow to like him a bit (just like in the movie).
Having grown up in the Detroit area, I had read about Jimmy Hoffa a lot…he was in the news a lot. But no one could ever find the body or figure out "who did it". Well you find out who did it here…and in the movie.
The more amazing tidbit that comes out is the role of the mob in killing JFK and his brother Robert. Whew… truly mind-boggling what was going on underground.
I read at night and I read until I fell asleep. Even when I was tired, I had a hard time putting this book down.
A great read.