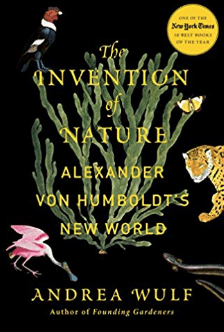 I am a forestry major (never worked in it but always loved it) who has been influenced by many people regarding the environment. I had no idea that Alexander Von Humboldt was the person who helped people like Henry David Thoreau, John Muir, and Charles Darwin do the work that made them famous.
Alexander Von Humboldt was one of the last people on earth who was capable of knowing all the sciences available to him at the time and could see the interconnectedness of them rather than the seeing just that science. He believed you had to be IN nature to understand nature as well. So he took his knowledge of botany, chemistry, astronomy, and more to South America where he began to SEE the connection between all these areas.
The reason we can talk about ecology, the environmentalists, and more is because of Von Humboldt who could see the interconnections between the world. He not only saw the sciences he could see the importance of poetry and the beauty of words to describe nature.
This is when I wish my book club had started already. I have 100's of things to discuss about this person from his views on nature, to ecology, to his impact on the WORLD…yes the world, and much more.
This is the best book I've read in awhile. If you love nature, you MUST read this book.