By Stephan Talty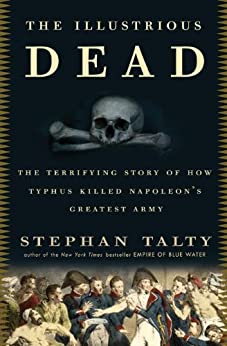 Wow! Who would have known? The great Napoleon Bonaparte continues his attacks of nations across Europe and an 1812 he attacks Russia. What a different world we would have today if he had succeeded!
The numbers are staggering in this book. On this battle to Russia, Napoleon lost 85% of his front line soldiers. He lost 200,000 men in 10 weeks, mostly to typhus. This was known as the military disease for hundreds of years because it is transmitted by people being in close proximity for long periods of time and not being able to clean properly. So it was a huge problem in prisons as well.
But they didn't know HOW the disease was transmitted until mid 1800's or later, so this disease simply wiped out 1000's of his troops, to the point that by the end of this Russian campaign, Napoleon lost about 300,000 men to typhus and about 100,000 in battle. Clearly if he had an extra 300,000 men to fight, he would have walked over Moscow and the Tsar Alexander would have surrendered. There is little disagreement with this. Napoleon was an amazing emperor and battle master.
I can't tell you how many times I had to stop and reread a section because of the unbelievable numbers and tragedy the author wrote about. Another example of how terrible typhus is, was in his example of the Siege of Saragossa in 1808.
100,000 citizens were trapped in the city of Saragossa. 54,000 of those citizens died from typhus along with 18,000 of the 20,000 soldiers who were there to protect them!!
If you are a history buff, you definitely will want to read this book