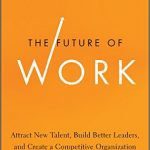 This is a book about the future of work written by a millennial. After listening to our keynote speaker, Gio Twigge at the Maine Career Development Association conference (June 2016) talk about how IDEXX is embracing the future employee and workspace, I picked up this book. (Gio referred to it in his talk).
I wanted to read this book in one setting as I was captivated from the start. I get tired of hearing how businesses have to adapt to millennial's. That's crap. Businesses need to adapt to the modern world of work! I want what they want. The future of work requires offering flexibility in the work schedule, location, and devices. The future of work wants recognition and ability to work as a team, collaborating on exciting creative projects using problem solving skills. I want that too.
Workers today often "want" to work at a company but don't "need" to. At least that is how they perceive employment. If you want them to stay with your company, you need to create a flexible, collaborative, honest and open environment.
I highly recommend this book to career counselors, coaches, practitioners for insight on how to prepare our clients for the new world of work.
Jim Peacock is the Principal at Peak-Careers Consulting and writes a monthly newsletter for career practitioners. Peak-Careers offers discussion-based online seminars for career practitioners focused on meeting continuing education needs for GCDF and BCC certified professionals as well as workshops for career practitioners and individual career coaching.
Sign up for our monthly newsletter at www.Peak-Careers.com