This book review is from Alease Copelin, a prolific reader I serve with on the NCDA Training & Education Council (TEC). She inspires me to read more. Last time we talked about books, she mentioned she was in two book clubs!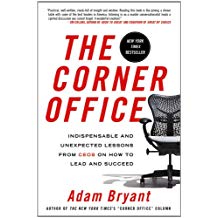 The Corner Office, by Adam Bryant, invites the reader to look at leadership from a fresh perspective – one apart from the standard stock fluctuations and quarterly dividends so often linked to success at the top. The material is a result of the author's interviews with more than 70 CEOs and other top executives at large companies, small companies, nonprofit organizations as well as educational and artistic institutions.
The focus on personal lessons learned from ups and downs, mistakes made as well as how leadership styles were developed over time provide insight not often found in books on business leadership. From the corner office and the top of their profession, these leaders have learned how to identify what sets potential future leaders apart – they have a feedback loop that has allowed them to hone the skillsets that have resulted in achievement.
Bryant asks the questions that illicit responses that share the important answers. "How did you learn to do what you do?" "What lessons have you learned that you can share with others?" The Corner Office provides answers that challenge the reader to look at leadership from a new perspective.
Alease Copelin