By Priya Parker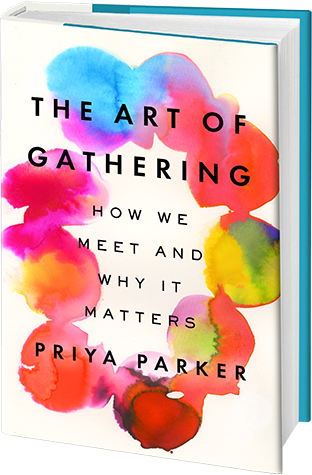 You know when you read something and realize that you were doing some things right but you didn't know why? Yep, that is how this book felt to me so many times.
Priya walks us through the various parts to gathering, whether it is a simple meeting, family get-together, or a wedding. You really need to be clear about the purpose of the gathering as that will define who is invited, how you invite the, how you greet them, and what you deliver. And oh yeah, how you close. It is all about the purpose and being clear in your own head what that means.
I loved her chapter, Never Start a Funeral with Logistics. Her story about every one being so sad and mournful at a funeral and the first thing the funeral director did was "the bathroom is down the hall…the family would like you to attend a get together at _____". What people REALLY needed to hear first is recognizing some feelings / emotions.
When I read this I was preparing to do a two-hour long zoom-workshop and realized that the 1st thing I was doing was introducing myself and going over the agenda. I changed it a bit and did a poll that engaged people first and still made the point about what we would be talking about. Hmmm….that was pretty smart. Thanks Priya.
I then had them introduce themselves, where they worked, and some pivotal point in their own career development. Another Priya thing. Many of these folks knew each other but probably did not know a past pivotal moment in their lives.
There is so much more to gathering that we take for granted. If you are the host, you have a responsibility to be clear about the purpose, keep the purpose forefront so that those people who know the purpose and stay engaged, do not get "sidelined" by someone who either hogs the show or does not stay focused on the purpose (which might simply be to get to know each other better). The host has the responsibility to keep the gathering going in the right direction. (i.e. staying on the agenda for a work meeting comes to mind to me).
But, the host can not take over a meeting either – there is a balance and the author does a great job at breaking down these roles, again from something as simple as a family / social get-together to setting up a United Nations meeting.
I enjoyed this book which we discussed in a small book-club I am in. Oh yeah, never end with logistics either. Do logistics 2nd to last and end with a summary of what happened.