FDR, Detroit, and an Epic Quest to Arm an America at War. by A.J. Baime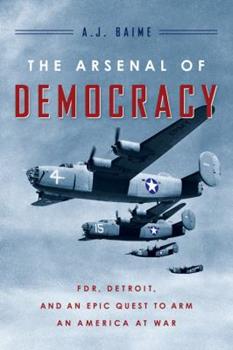 I grew up in a south-end suburb of Detroit so I knew many of the places and people mentioned here; the Rouge, Willow Run, Chevrolet, Ford, and more. but I did not know of the significance of much of this for us winning the war in Europe. Simply we built more airplanes than Germany and Japan could shoot down.
I had heard stories of Henry Ford and all the great things he did, like manufacture affordable cars for the common man, pay a working wage, the foundation of Greenfield Village (which I love going to every time I go home), and even stories from my grandpa Peacock.
*My Grandpa Peacock was an engineer on Detroit, Toledo, Ironton (DTI) trains and Henry Ford owned that line. Mr. Ford was a non-drinker, non-smoker and would literally fire people on the spot if he caught them smoking or chewing tobacco. My dad told me that his dad had to swallow a chaw of tobacco once because Henry Ford made a surprise visit! People swallowed cigarettes too.
The US was not in WWII and wanted to stay out of it. We also did not produce many airplanes, in particular not to what Germany was producing. Germany had taken over manufacturing planes, tanks, submarines, and all kinds of vehicles and munitions to take over Europe. The USA sat by and watched Germany roll through Poland, France, and heading to Great Britain. They had no solution to stopping Germany. The needed the US to help.
The US was producing cars at a huge rate and all the pieces and parts to make cars. Once Japan bombed Pearl Harbor, the US was in and FDR gave his speech on the "arsenal of democracy" that lead us into the war. In other words, the only way to win this war was to out produce Hitler. And that is what we did.
Henry Ford was a pacifist but his son Edsel could see the importance of converting to making planes. And that is indeed what he did.
Hitler was producing 18,000 war planes each year. The US…basically zero n 1940. FDR wanted to produce 50,000 planes a year. We needed the 4 Engine B-24 Liberator weighing 50,000 pounds and Edsel Ford's goal was to produce one per hour and had to build the Willow Run plant to do it.
This story is mind boggling in the size of what needed to be done. Not just by Ford but all manufacturing in the country i.e. tanks, jeeps, bullets, and more. The author is readable and believable as he explains the magnitude of what needed to happen and the personalities involved mostly within the Ford company. Including the thugs that Henry Ford hired to try and keep his employees in line.
The sinister side of Henry Ford was that he was also an anti-Semite and actually received one of the highest civilian awards that Germany offered at the time…from Hitler! Holy crap…I had no idea.
I love reading historical novels and this novel is a historical gem with the references included in what happened by whom. Plus having come from that area, it was a joy to read.