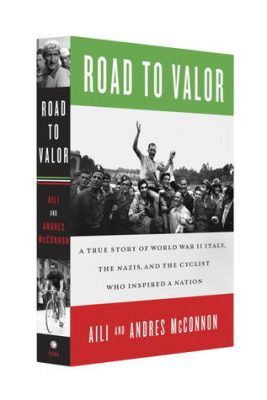 Wow! What a great book. I love to read about these true stories of heroes. Gino Bartali was an Italian world class cyclist in the 1940's who's prime years of cycling were interrupted by WWII. In particular when Mussolini joined forces with Hitler and Italy began their purging of the Jews.
Gino was a famous cyclist at the time having won many long distance races in Italy and also the Tour de France. Then all the races were canceled and even when one was reinstated, Gino was forbidden to race by the communist elite. (read to the book to find out why).
He was a staunch Catholic and during the terrible years of WWII he was asked by one of the priests to help deliver forged travel documents so that many Jews could safely move about the city. VERY risky and almost certain death or at least torture and imprisonment.
Gino saved 100's of Jewish lives during this time.
After the war he returns to the Tour de France as one of the "old guys" and makes a comeback that, in many ways, saved Italy. Again, you'll need to read the book to understand that last line.
Whatever you do…read the book. It is awesome. Enlightening. And he deserves to be remembered in history.