Why should career coaches and career service providers know about staffing and recruiting agencies?
Listen to this interview with an owner of a staffing agency and a top recruiter discuss why you might want to
refer a client or student to a staffing and recruiting agency.
My guests today are:
Wendy Schoen, CEO & Managing Partner of Schoen Legal Search
Cathy DeMerchant, President and Co-Owner of Capital Area Staffing Solutions
What we explore:
When might career coaches and practitioners refer their clients to a staffing or recruiting agency?
What recommendations do you have for identifying the right recruiter for the client?
This complements my blog on the same topic Read Blog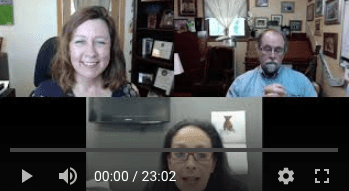 BIOS
Wendy Schoen, CEO & managing partner of Schoen Legal Search, is an example to all of the up and coming women professionals today that you can succeed in your chosen career if you want to. And if not, you can change your career, multiple times in fact, and be tremendously successful.  Wendy was one of a handful of women to earn her MBA from the University of Chicago in 1980. She returned to Wall Street where she worked in investment banking through the turbulent and exciting '80s. Wendy made the first of her career turnarounds when she earned her law degree in 1991 from Boston University Law School. She embraced this second career by clerking and then joining a law firm.
By late 1992 Wendy knew that practicing law wasn't for her so it was time for another career change, and she turned herself into the legal recruiter she is today. Twenty some odd years later and she is one of the top legal recruiters in New York, placing attorneys into law firms, banks, management consulting firms, and funds through her own company Schoen Legal Search. Wendy places general counsel, partners, counsel, and associates.  More importantly, she has a list of connections that just cannot be beat.
Cathy DeMerchant is president and co-owner of Capital Area Staffing Solutions. Cathy and her two partners, Edward Moran and Peter E. Dunn, Jr., opened the corporate office of Capital Area Staffing Solutions, Inc. in March of 2003 in Augusta Maine, followed by their first branch, Bangor Area Staffing Solutions, in 2011. She has been in the staffing industry since 1996 and was a founding member of the Kennebec Valley Human Resource Association. Cathy has active memberships on the Mid-Maine Chamber of Commerce, the National Rifle Association, the Kennebec Valley Human Resource Association, the Maine Staffing Association, the American Staffing Association, and the Society for Human Resource Management. An avid hunter, Cathy and her husband live in Vassalboro with their labs, Buck and Trapper.
Jim Peacock is the principal at Peak-Careers Consulting and writes a monthly newsletter for career practitioners. Peak-Careers offers discussion-based online seminars for career practitioners focused on meeting continuing education needs for CCSP, GCDF and BCC certified professionals as well as workshops for career practitioners and individual career coaching. He is the author of A Field Guide for Career Practitioners: Helping Your Clients Create Their Next Move
Sign up to receive my TOP 10 TIPS WHEN WORKING WITH AN UNDECIDED PERSON. You can also receive the career practitioners newsletter which includes a variety of career topics, industry news, interesting events, and more.