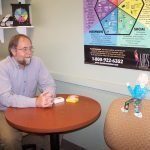 Have you ever felt a little nervous when helping clients when they are finally given the chance to interview? All the work you have done is now at the doorstep of paying off.
You've done assessments, had the discussions, helped with LinkedIn profiles, explored options, created a strong cover letter & resume, and now the day has come for an interview. The pressure is on.
Here are my five tips regarding proper planning prevents poor performance at the interview.
[Read more…]

about Proper Planning Prevents Poor Performance at Interviewing