Impressive insight into our economy and a personal philosophy of fighting for the middle class and underserved.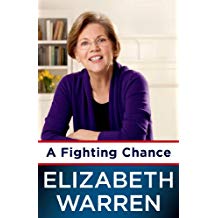 Elizabeth Warren's book peels back the greed and money that is ruining our country and taking over politics. Her work at developing the Consumer Financial Protection Bureau helps protect consumers every day now. Before CFPB was created big banks and CEO's held all the cards. Needless to say, lots of big banks are not happy with her. The trouble is, they still hold many of the cards.
I feel better knowing she is in the Senate fighting for the common person. I feel sorry for the Jamie Dimon's of the world who ripped off consumers through banking scams and caused economic collapse and then got a 74% increase in pay raise to $20 million in 2013 when he (and others like him) really should have gone to jail.
[Read more…]

about A Fighting Chance by Elizabeth Warren