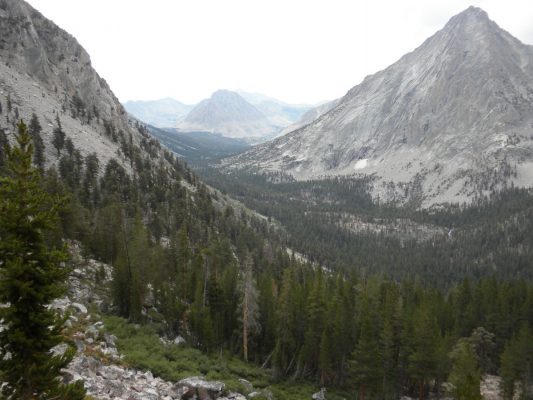 In August 2012, I backpacked the John Muir Trail / Pacific Crest Trail in California, a 195 mile backpacking trip with 2 great friends. We have now hiked around 1400 miles of the PCT over the past 31 years but this section was amazing!
As you look at this beautiful picture of the mountains we hiked in, try to find the trail that lies ahead of us. Every day we looked ahead for the trail and we usually saw something that looked like this picture. Is the trail going to go up this valley to the left? Or is it going to go up and around the far side of that tall peak in the middle? Or will it head into the valley and go right before that peak? Often we did not know for sure.
As people head down their own career path, they all too often cannot KNOW where the path will go exactly. They can choose a direction but the actual path appears in a serendipitous manner. We need to help our clients embrace serendipity, "discovering opportunities by accident". We need to help them be open to possibilities that lie ahead. We can help our clients plan a path, but we need to be open to the possibility that it may not lead to exactly what we thought. It may veer to the right or left, but I can say that it will take us somewhere. And that "somewhere" may turn out to be even BETTER than the original path.
[Read more…]

about Unexpected opportunities