By Mark Kurlansky who also wrote Cod which was a great book about how the cod is what brought the early Europeans to America in the 1400's and how much an impact the cod has made.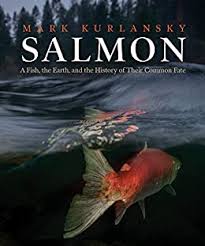 Salmon is a book I will keep forever on my bookshelf (much to the dismay of my wife who wants me to start getting rid of some books). Kurlansky has taken the global view of this fish and how it is found all over the northern hemispere and introduced to the southern hemispher in New Zealand and Australia. One of the ONLY times hatcheries really worked and it is because NZ and Oz had the perfect environment for them.
The author talks about what the salmon needs to survive, their life-cycle, the history, and then how man-kind has destroyed the habitat required by putting up dams. Oh yeh, and also by putting up sawmills on the rivers that basically choked the fish out.
I bought the hard-cover and love it. It is filled with amazing photos of fish, grizzly, people, and scenery. He has also included a number of recipes on how to prepare salmon from different cultures.
If you are a person who loves fishing and / or wildlife in general, get this book.