PR Works! How to Create, Implement and Leverage a Public Relations Program for your Small Business. By Nancy Marshall, The PR Maven.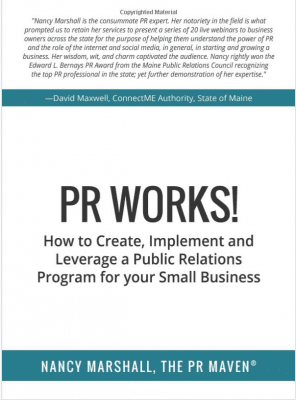 I was traveling back from doing a workshop in Minnesota and over heard the person behind me talking about Colby College (where I worked part-time in the Career Center for 3 years) and a few other snippets of conversation. When we landed and I stood up we started chatting and then I realized it was Nancy Marshall who runs one of the best PR firms in Maine. I had met her once before and I also provided career services while at Colby to her son. Small world.
While waiting for our connection home to Maine, she offered her book to me. By the time we landed, I was through Chapter 5.
As a solo-preneur I devoured this book filled with so many tips on improving the PR for Peak-Careers. It is laid out in a very easy to understand way and feels like she is talking to me throughout the book. She starts with "How Public Relations Works" and moves through "StoryTelling", "Social Media Programs" through how to measure success and more. She offers an appendix of great examples to support nearly every chapter, but certainly to support her main points.
If you want to get a better understanding of what you need to do to improve your PR, this is a great place to start.
Thanks Nancy!