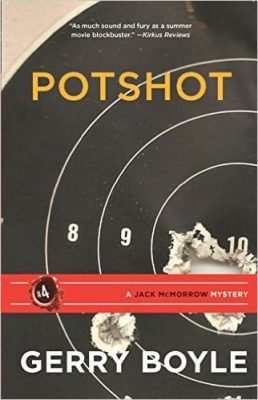 I stumbled on this Gerry Boyle book published first in 1997 titled Potshot, when I was looking for his latest book. I really thought I had read all of his books because I love his style of writing, his characters (Jack's friend Claire is my favorite),
and his sense of humor while telling a great investigative story.
All his books are set in Maine and I recognize many of the places that he writes about. Potshot is another great book about how the main character, Jack McMorrow, stumbles upon a drug problem that twists and turns from rural Maine to Lewiston Maine to Massachusetts and back. If you haven't read a Gerry Boyle book you need to start. Pick any one of his Jack McMorrow series books, they are all great fun.
He also has started a Brandon Blake series with different characters.
My only problem with Gerry's books are that I tend to sit down and read them in a couple days and then have to wait a year or two for the next one to come out. I guess that's a good problem to have.