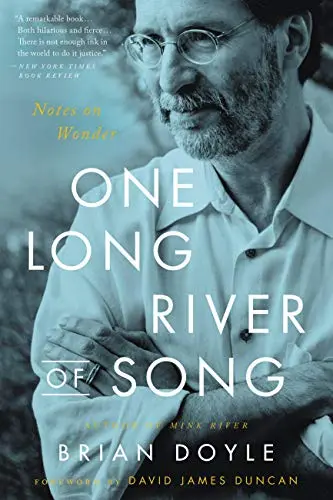 My good friend Howard sent me this book, thinking I'd like it. He was right. What a great collection of shorts. I can't call them all short stories but they are kinda like that. Absolutely thought-provoking and filled with emotion, over and over again.
I crimped the pages of a number of these as I want to read them again before I share this book with another friend. It is simply that good.
He has short (some 1 page some 4 pages) stories of him growing up that reminded me of my family. He had 2 or 3 brothers (I have 3) and a sister (me too) and I could feel the love between his (and mine) in his memories of their time growing up.
Brian died of brain cancer much too young and I will be reading his book, Mink River soon. He does indeed write about love, death, family, struggles in life, marriage, children, religion, and more. He has the ability to capture feelings and emotions in a way that is unique and he's not afraid to write about some topics that may be difficult, like bigotry and racism, along with religion.
His style is quirky, in that he is not afraid to write long…long….sentences. Like 379 word sentence to open one of his stories! Yep, pretty wild. I found myself trying to count some of them when I realized how long they went on 🙂
This book had a number of laugh-out-loud lines when my wife would just look at me and I'd try to explain it to her, unsuccessfully at times.
I love this line, found as one of his chapter headings. Not sure what I'm going to do with it, but here it is…
I Walked Out So Full of Hope I'm Sure I Spilled Some by the Door.
Hmmm…so many things to think about with this book and to treasure. I even sent a picture of one page (that was the whole story) and sent it to my brother the priest because I think there is a homily in there, titled "God" where he writes about seeing God on a bus full of children.
"…I saw God this morning just as the bus slowed down for the stop at Maple Street. God was six girls and one boy with a bright green and purple stegosaurus hat. Of course God would wear a brilliantly colored tall dinosaur hat"!
God is all around us, we just need to look for him. The peace and love and kindness and sheer joy of the children is often where he will be. I love it.
So much positivity in this book along with lots to think about.