The Untold Story of the World's Greatest Nuclear Disaster.
Holy jumping up and down Martha!! This book scared the crap out of me. The Russians were so worried about looking bad in the world's eyes they covered up this nuclear disaster for years. Their incompetence in building the reactors was where it began, but it did not end there.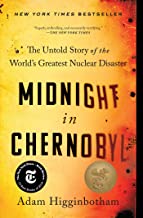 Their fear of upsetting communist party members above them, kept many people who were involved quiet. Based upon the construction problems and shoddy workmanship, it was merely a matter of time before they had an accident.
One appalling thing (there are many) was that the nuclear blast was carried on the jet stream to other countries like Finland and no country was notified of the explosion.
This book gives an insight to the "thinking" that goes on in Russian minds, most likely to this day, as well as the fundamental problem of nuclear energy…can it be controlled?
A fairly quick read with over 140 pages of glossary, notes, and index.
Yeah, you should read it.