Discover How YOU Contribute To The World
Tom Rath has written StrengthsFinder 2.0 and How Full is Your Bucket and Eat Move Sleep. He is best known for StrengthsFinder 2.0 and this book builds on strengths in a slightly different way.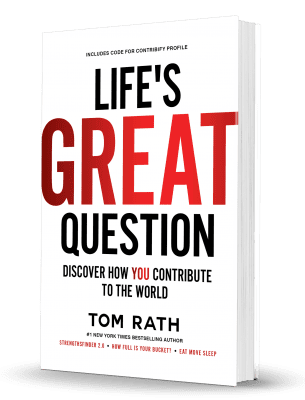 As the title says, it really looks at how you want to contribute to the world.
He suggests that we move away from "You are what you do" which is the most common question people ask when they first meet you, to "You are how you help." It really is about how you help others in life that makes a true impact in the world.
His website contribify.com has a "how do you contribute?" assessment you can take. I read the book first and tried to determine what my areas of contributions are before taking the 20-30 minute assessment. (A code is provided with the book to take it for free).
I did not come up with the exact same three but I was pretty close and can see how each of them fits into my life.
He describes 12 contributions that fall within 3 areas that looks at what the world needs and how you deliver your strengths, passions, and values to each one.
OPERATE
Organizing: How do we make things run smoothly?
Achieving: How can we get more done?
Adapting: How can we adapt quickly to changes?
Scaling: How can we reach more people?
RELATE
Connecting: How do we connect people to our missions?
Energizing: How do we get and stay charged?
Perceiving: What does each person need?
Influencing: How can we grow our client base?
CREATE
Initiating: How do we get started?
Challenging: Are we doing the right things?
Teaching: What do people need to know?
Visioning: What should we do next?
I love how this model looks at a persons strength but dives deeper into how do you want to use this skill? It is similar to the conversation with students or clients when they say "I want to work with people". What does that mean?
Well, if you filter over Rath's 12 contribution areas, you can begin to peel away how they want to work with people. Is it to get them energized or motivated? Is it to teach them something? Is it to get more things done?
Like all tools we have to help us understand ourselves (or clients) better, we tend to have a little bit of all of the areas in us at some time. Even as a strong Extrovert (ENFP) I still enjoy my time alone. But the reality is we do indeed have defaults and strengths and if we can play to our strengths we will be happier in our jobs and lives.
My guesses on what my top contribution in each area was:
CREATE: I thought I was more teaching, What do people need to know?
The assessment results gave me initiating, How do we get started? Which as to do with connecting people to get things done…I can see this and will re-read that section more closely.
RELATE: I thought I would be closer to the energizer, How do we get and stay charged?..
The assessment results gave me perceiving, What does each person need? Again, I can see both. Perceiving is about creating stronger bonds between people, finding commonality, and being a good listener. Both of these areas have merit in my world.
OPERATE: I thought I was adapting, How can we adapt quickly to changes?
But after taking the assessment and coming out as scaling, How can we reach more people? I realize that scaling is much closer to what motivates me and why I do what I do. The mission of Peak-Careers is to help more career coaches do a better job in their work in order to reach more people.
As I reflect on my mission for Peak-Careers, Providing professional development for career service providers, I can see how my mission has a lot to do with training people but also connecting them.
As I check out my ABOUT page, and read this, I help career service providers improve their skills so the greatest number of people receive quality career services. I realize that scaling is what I am all about.
This is a book I will re-read in order to glean out some of the nuances of each of his 12 contributing areas for better understanding. All in all, if you are a career coach or a person who is exploring a change of careers, I recommend reading this book and taking their assessment.